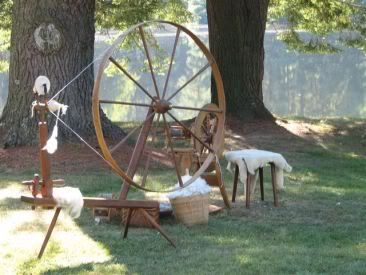 Saturday was the
Dorflinger-Suydam
Wildlife Sanctuary Festival, and we had beautiful weather for the event. I had gone over early the night before with Judy to set up our tables and rack to hold the shawls, as well as her tent (in case of rain). When we arrived the next morning, we found out that we were right next to the fiddle player, Laura Kortright, so we had wonderful fiddle music to spin by! Next to Laura was artist Joann Wells Greenbaum from Milford, PA. She was creating beautiful watercolor paintings by the lawn along the lake. I had the pleasure of meeting Joann at the Fiber Fest in July at the Hatton Farm. She was one of my needlefelting students, and it was nice to see her again.
I did have a chance to visit with an acquaintance of mine who does exquisite Pysanky (the Ukrainian egg painting)...I had met her at a previous show where we both were vending. I was sure to take a break from my booth to go and visit the
The Lost Art Lacers
(who make amazing bobbin-lace creations)-The complexity of the designs, the intricate pattern blew me away! But there was not enough time to stay for their demonstration, I had to get back to my own booth. I was really happy to see so many old world crafts, and I think the festival next year will be even bigger.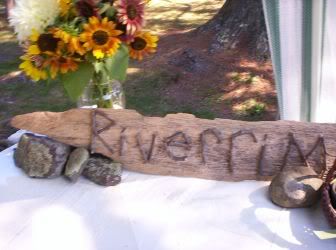 In the afternoon, there was a special Native American event by FrankLittlebear, a member of the Cree Nation...that started out on the lake in a canoe where he was playing his flute. This got all the children's attention, so they followed him like the pied piper. His canoe came ashore, and the kids gathered around to watch him do dancing and drumming and story telling. I really wanted to leave my booth and go down and watch with the children...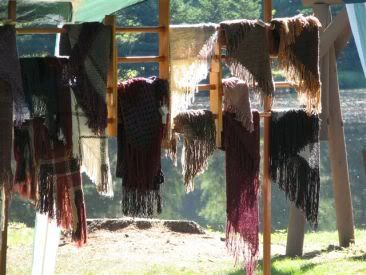 The Great Wheel attracted people like a magnet. Each time I would start a demo, there was a crowd of spectators within minutes. I was a little shy about doing demos on the Great Wheel, as I have not been spinning on it very long, and feel much more confident behind my comfortable old Ashford!
The down side of bringing the Great Wheel, was that some of the children that were running around did not have respect for it. If I was busy demonstrating at the loom or elsewhere, I noticed small children just running up and giving her a "big wheel" spin! Several times they knocked the drive band off and I had to shew them away! I guess I needed a sign or something that said "keep your hot little hands off of my wheel!" ...just kidding...I really like kids...
At the end of the day, Joann Greenbaum presented me with a signed watercolor that she had painted of me spinning away...such a nice souvenir of the day!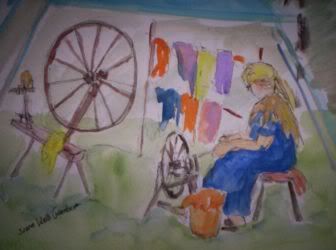 Next weekend I am going to be at the Northeast Small Farm and Rural Living Expo, along with several other spinners from the area....the days are just flying by!
We spent the rest of the weekend taking care of winterizing this old house..a big project, but one that needed doing...on account of Glaucomys sabrinus, who has decided that we have a nice warm log house to sleep in and has tried sharing it with us....that will NEVER do! He found a place along the stone chimney, and entered the south wall of the bedroom. We could not determine where he was getting inside from the outside of the house, so we had to take the log wall down from the inside to find it. Once we found the hole, we blocked it with wire mesh, and then we replaced the old insulation with new. Now I will be nice and cozy, and the squirrels can find some other place to live! Ah yes...country living...nothing like it......if you want to read more about the flying squirrels...
here
is a great link.