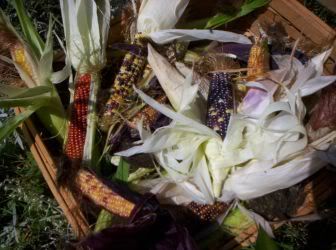 Today I harvested the "
cutie pop" popcorn
that I planted this past spring when I was spinning the "indian corn" mohair. Since I recently finished weaving the mohair into a Triangle Shawl, I thought I would photograph the corn and the shawl together...since I am not sure which one inspired the other. Was it the indian corn mohair that made me think to buy the indian corn seed, or was it the other way around...I cannot remember...but the colors in both are beautiful.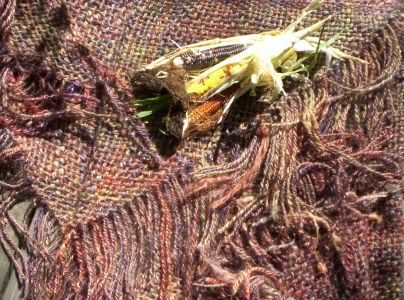 At one point I was struck with the idea of adding little beads (that reminded me of kernels of corn) to the ends of the fringe. I guess I am happy with the way they look, but not sure I like the way they hang off the shawl.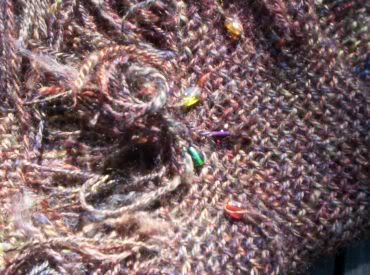 While I was husking the popcorn, I was doing quite a bit of thinking about how beautiful the corn was. As I pulled back on each husk to reveal a different pattern and different color I did not tire of the chore, but became more engrossed in what I was doing. Each ear was a surprise..unique..a work of art! I was thinking back on when I planted it...and over the summer growing conditions...wondering what it was that made it so beautiful. Perhaps it was just the variety, or the soil that we had worked so hard to feed. Corn is a very heavy feeder, so feed the soil to feed the plant. Corn likes rabbit manure because it is so rich in nitrogen...and we did add wheel barrows full of rabbit manure to that area this past spring while the Mr. did the tilling. Was it the timing of the planting that made the difference? Could be it was the little song I sang while I planted it..."inch by inch ...row by row..God bless the seeds I sow ...please keep them safe below..till the rains come pouring down..." Then again, I guess it could be all those things together that just made these little cobs shine like gems.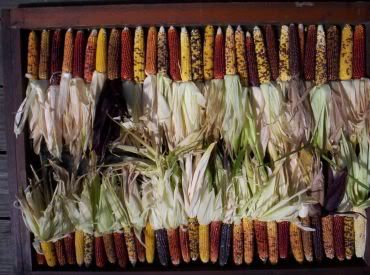 Some summers are good for peppers, some are good for peas...this summer was a good one for corn and tomatoes....(which btw I am upwards of 120 pounds!) This popcorn will have to dry for 6 to eight weeks before we can test it for taste. You should not pick your popcorn until it is really ready. You need to check on it...wait for the stalks to turn yellowish, and then peel back a bit of husk. Try to press a fingernail into a kernel, and if it leaves a dent, it is not ready. The kernels should be hard before you pick your corn, no fingernail marks! Husk it after picking and store it between screens for drying. It is so pretty, I won't want to eat it, but to pop it you simply twist the husk until the corn falls into a bowl. You can even microwave it! To store it, pack in an airtight jar. You can remove it from the cob before packing, but it will stay fresher if you leave it on the cob.