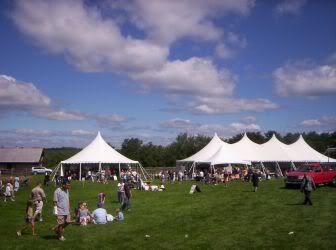 We took a little time out this past weekend and went to the Harvest Festival in Bethel Woods (near the old Woodstock gathering). We like to take a trip out there this time of year, and shop the farmers market. This past weekend was the Alpaca Festival, so there was wool to be had as well!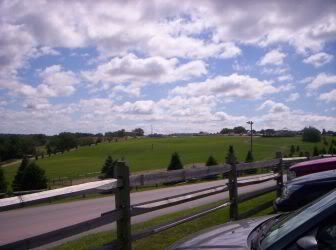 I was a beautiful day, and you could see the construction for the Center for the Arts that they are building. The construction is going on in the area that we used to visit for the farmers markets. It is going to be very nice once it is finished...sometime next summer.
Besides the farmers' market, there was a craft village, children's activities, corn and hay mazes, pony rides and a scarecrow exhibit by local organizations and businesses. They also had live music throughout the day (we were there early in the day and got to hear the fiddle player).
We brought a nice basket and filled it with goodies. It was fun talking to the farmers...sharing information about the growing season we had, and exchanging plant varieties and seed suppliers. We brought a nice
Jade Star watermelon
(only 85 days)...that is important when you live in an area where the nights are cool. Most melons like it hot and take over 100 days to mature. We also got a beautiful musk melon and some green peppers, some fantastic onion bread, some beautiful dried flowers and some wonderful soap from Laurie Sickley (Gotsoap.com). I also purchased a 4oz. bag of alpaca roving. They were really not set up to sell fiber, most of the emphasis was on the finished articles of clothing. However, there was a spinner and weaver there from the Woodland Spinners and Weavers Guild, so I met them and chatted a bit. They encouraged me to join up...which I would love to do...but were to find the time??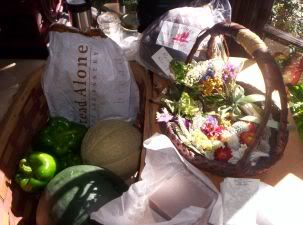 There were several local wineries but I did not come home with a bottle...I have already spent my limit this month. Perhaps I will get a chance to go back before the end of the harvest festivals in October.
We really had a nice day.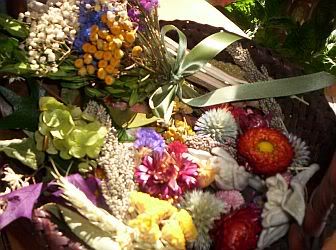 These dried flowers really cheered me up, there is a millet in there that is called Tapestry Millet.
I will have to grow some of this next year, it is beautiful and the birds love it -I am told!
Seasons are changing around here, you can feel it in the night air, see it in the leaves, and hear it in the songs of the crickets. The cicadas have stopped, now only the crickets sing about the coming frost...it won't be long....