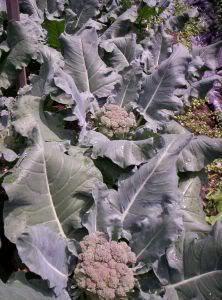 Wow, it is hot out there....but the broccoli and peas are coming in at a great rate! Every morning I venture out to the garden, basket and knife in hand, to pick the ripe heads for packing and freezing. I have been very happy with this years yeild. I have been waiting for this particular variety of broccoli for several years. It is called Windsor.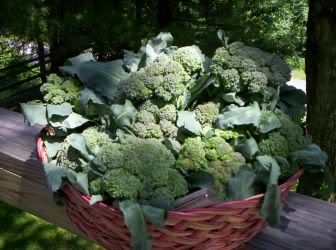 I grew it before, in 2000, but after that, I was unable to get the seed. Each seed catalog that supplied it always contained the same footnote: *sorry, crop failure. I was beginning to think I would not be able to get it again, but my farmer friend called me this past spring with a "heads up" that Stokes was supplying it. I don't ordinarily order from Stokes, mostly because they are not certified Organic, but this year was an exception. They offered the Windsor seeds in an untreated packet, so I ordered some. It has preformed beautifully as you can see.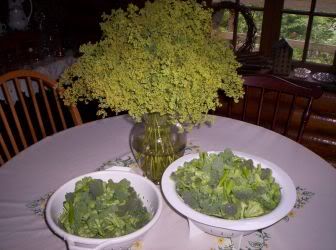 I have packed over 6 gallons so far, and there are nice side shoots coming in for fresh eating (great in pasta salads). My wasps that I raised in the greenhouse this spring, and then transfered out to the broccoli patch, have been patroling the plants with success. I see them hovering like little black hawk helicopters, in search of the cabbage worms. They have done a marvelous job of picking and devouring the little buggers. Of the 6 gallons of broccoli that I have packed, I found a total of 4 worms, and 2 egg cases. I love the fact that I do not have to spray for cabbage worms. My kale that I grow for the rabbits and chickens, is also clean. Nature is a marvel. I highly recommend this form of pest control. Now if I can just identify a predator for the cucumber beetle, I might consider growing curbits again.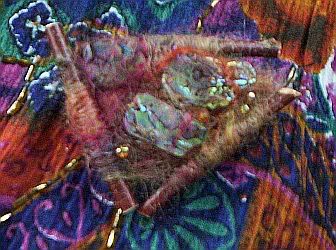 I have been making some examples of needle felted jewelry for the workshop demonstration coming up at the end of the month. Back in May, while parusing the blogosphere, I found that Claire of Little Fish Creations was making some very unusual pins, so I asked her how she was doing it. She explained the process -and I thought it was very interesting and very creative. They are actually little quilts that are stitched and cut and stitched again. I liked the effect, and it inspired me to try some needle felted brooches, (or if you rather, broaches...) I don't normally think of fiber in the same context as jewels. It seems sort of redundant to wear textiles (clothing) with more textile (fiber)...but in an odd way it works for me! Besides, they were really fun to make...and a nice exercise for the imagination...and yet another example of what you can make with the fabulous tool known as the felting needle.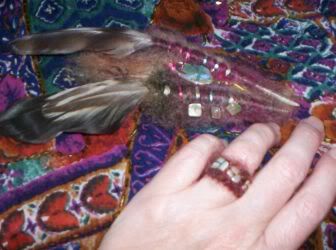 The hardest part of this project was securing the pin to the back of the brooch to get it to hang properly. Placement was a big factor. I started out centering the pin on the back of the brooch, however, this proved to be a mistake because of the weight of the brooch....and it caused the brooch to pitch forward, or look like it was sagging. So then I moved it to the top portion of the brooch, and that worked much better. I used the little sticky back pins, and when I liked the placement, I then used a needle and thread to tack it down permantly.
The ring was an after thought, that took all of about 5 minutes to make...and is quite comfortable to wear. There is almost no weight to the ring, and after awhile, I forgot I was even wearing it.