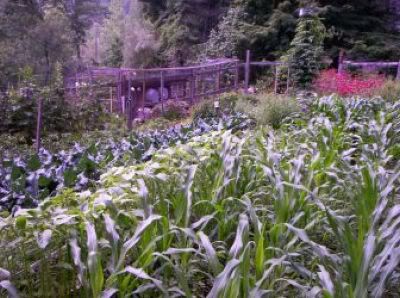 It is so hot out there ...pay no mind to the temp reading on the side bar...it is wrong. It is hot and still and humid around the riverrim...and you can hear the corn growing. The cicadas started making their song today...and that means 6 weeks until frost...can it be true?? Will we get one of those early frosts this year?? Thinking about frost almost makes me glad that we are in the heat of the summer...it passes so quickly around here.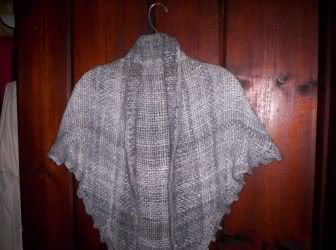 But when the frost does arrive, I hope this angora shawl will keep its new owner toasty warm. I finished the shawl just in time for my mothers "milestone" birthday. We all had such a nice time at her party this past weekend. It was great to see everyone.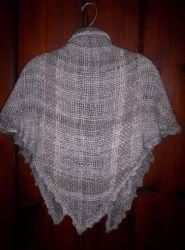 This is 100% Jack! That is 100% angora from Jack. I spun it very thin, and then I navajo plyed it, and wove it on the 5 foot triangle loom, in a basic tabby structure...but it came out rather open weave...and that is nice and light. I finished the edge with a double crochet all around and went back and added a picot. My mother was very happy with it...I hope it gives her many warm and cozy moments.