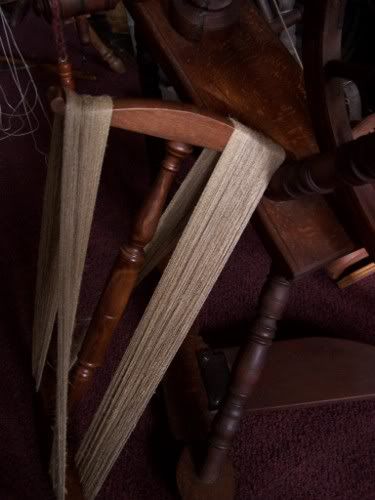 Fresh off the bobbin, and onto the nod...412 yards of some tow flax that I've been working up. There are several different types...made up from leftovers off the strick or line distaff.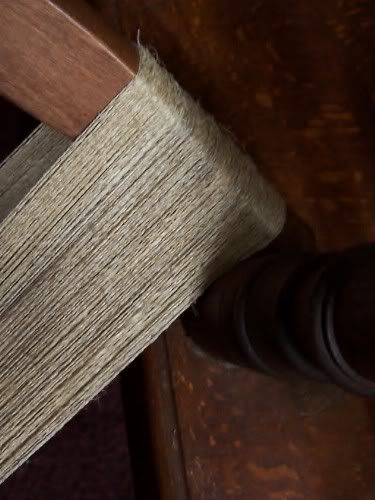 The paddle distaff has been working like a champ! The knotted flax is simply wrapped up/ wadded up ...as it were. Clumps are wrapped with the tie, and magically, the flax just seems to fall into place on the pull down. If too much of it clumps at once, I use my other hand to pick it apart before it enters the draft. At times, a mass of knotted root ends will come off and land on the floor..so there is a handful of "ends" to clean up afterwards. Note to self: do not use the vac on these! Yikes!
A close up of the spun linen reveals the slubs and hairy bits that are in the threads. No matter, this skein will be used for a project that will incorporate all that fuzzieness.
The skein still needs to be finished off, maybe in the simmering pot. A question to a fellow Ravelry member, resulted in a suggestion to try using Oxyclean in place of washing soda....or instead of dish detergent, which I have been using. I have yet to try making my own washing soda by heating up baking soda (300 degrees for several hours)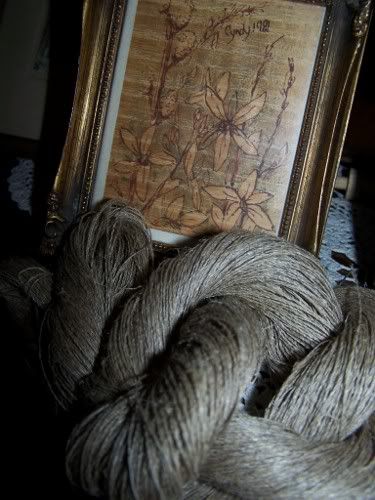 This skein is going to be used to make a few more of the wrist distaffs for use with spindle spinning, or Great Wheel spinning. I'm enjoying making these. They are very relaxing to work on. The work of choosing a bead to use, stringing them...knotting them..is pleasing. Only trouble is...that with so many other chores to be done, this seems to take a place at the bottom of the list!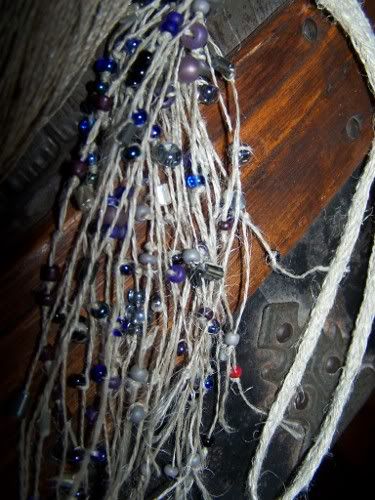 I'm learning how to make the sort of knots that one would use when stringing pearls. Simple overhand knots, but a good technique makes for fast execution...I'm getting better with practice.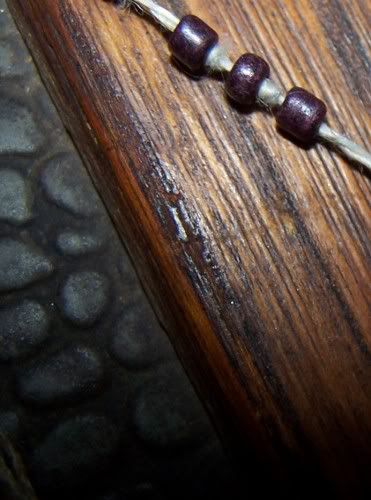 ..so many knots...so little time ....each knot holds a thought