Last week, we took a detour from life and wound up at the PA Farm Show Complex, in Harrisburg, Pennsylvania.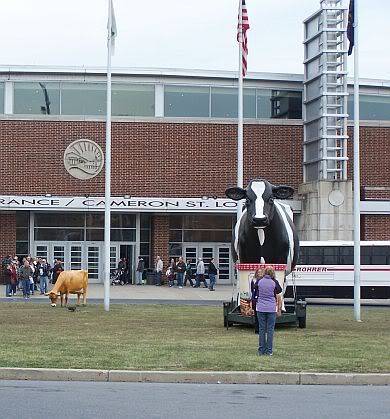 The Sheep to Shawl contest was happening. This was my first experience seeing it in person. I've been trying to get there for many years, but the weather is usually not permitting. It is an exciting event to attend.
First, there are the sheep.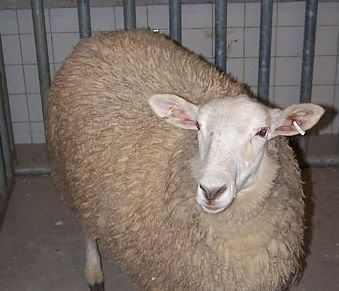 they get turned into this:
...by the teams who shear, spin and weave a shawl in the space of a few hours..each team must present an objective and attempt to execute it in the least amount of time. The looms may be pre-warped. There are points awarded for Shearing, Fleece, Spinning, Weaving, Design and Speed.
And then, there are the judges, who have the difficult task of awarding the points. The finished shawl must measure at least 22 inches wide and 78 inches long, or points will be deducted from the score.
It was difficult to photograph the winning shawl from team, "Time Warp". From where I was standing the lighting was poor, and the shawl was dark. However, the team generously gifted some of the audience with strands of the warp threads, and I have a few (and an autographed program) as a souvenir.
This shawl took second place, and was created by team, "Friends Thru Fiber".
If you would like to see some wonderful photos, go to YarnieMarnie's blog, she had a ringside view and was blogging live. She really does a fantastic job of covering this event.
Once the prizes are awarded, an auction takes place. This year, the second place shawl sold for $1,850.00. Some of the teams will donate the proceeds from the sale of their shawls...for instance, this year team Dream Weavers gave the monies to a father and son from a farm in Northumberland County, who were both badly burned in a farming accident this past August. After the shawl auction, there is a Wool Auction..I sat on my hands so I wouldn't bid.
While all the spinning and weaving was going on, there was knitting going on too... by the spectators in the seats next to me. It was a great afternoon...and I think the only thing that would have made it better was to have been able to be on a team and be a part of this wonderful event!