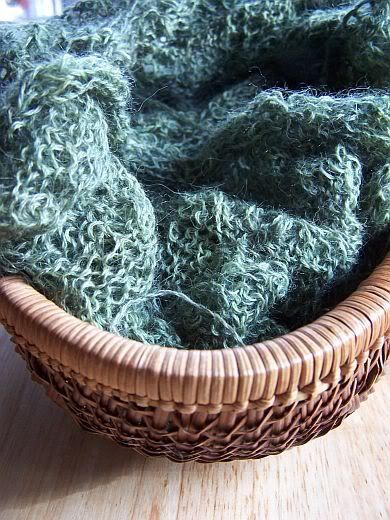 Queen Silvia (scarf version) has been on and off my needles, again. I started working on it last August, and realized, as I finished, that I hadn't taken any photographs of the work in progress. The first QS that I knit was blue. This time around I used Judy's green Arequipa, Alpaca and silk.....with its wonderful drape, the slippery softness of the alpaca and the lustre of both.
"That's one thing that's always, like, been a difference between, like, the performing arts, and being a painter, you know. A painter does a painting, and he paints it, and that's it, you know. He has the joy of creating it, it hangs on a wall, and somebody buys it, and maybe somebody buys it again, or maybe nobody buys it and it sits up in a loft somewhere until he dies. But he never, you know, nobody ever, nobody ever said to Van Gogh, 'Paint a Starry Night again, man!' You know? He painted it and that was it."
Joni Mitchell Miles of Aisles (1974)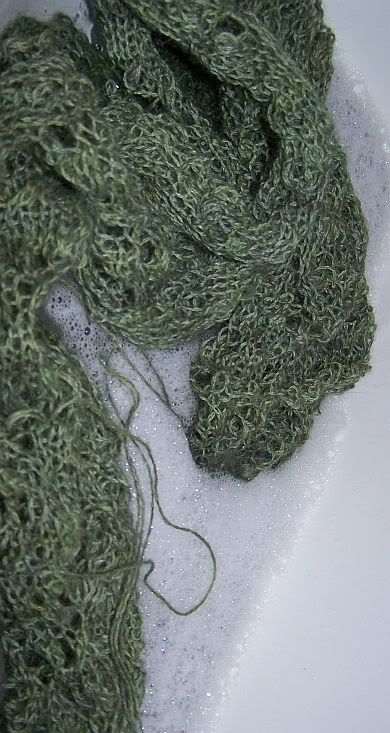 I didn't expect to knit this pattern twice. Knitting something twice isn't something I would ordinarily do. I rarely read the same book twice, or see a movie more than once. This piece was an exception.
Haapsalu lace patterns are worked on a stockinette-stitch ground, and I learned that these Estonian Lace patterns are considered, or "classified" as, "lace knitting". Lace Knitting has rest rows. For non-knitters, this means that one pattern row is worked, and then it is followed by a row (knit or purl) of plain knitting. This is different from "knitted lace"...which requires the pattern to be worked on every row.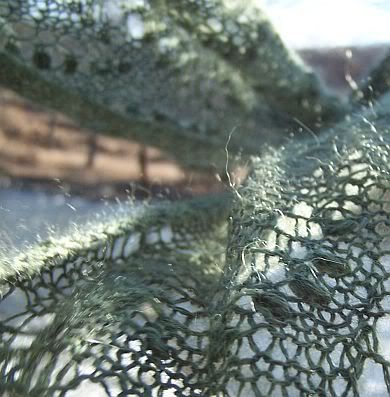 I worked my Queen Silvia (the pattern named for the Swedish Queen) scarf on size 3 needles.
I made my nupps from 5 stitches rather than 7. A 7 stitch nupp seemed over the top. For non-knitters, a nupp is the little bud-like, or bobble-like feature in the pattern. I didn't count how many nupps are in the pattern. The scarf measures about 13 inches wide by 74 inches long. That is a lot of nupps. Did you know that nupps cannot be reproduced by a machine? They are the signature of a handknitted article.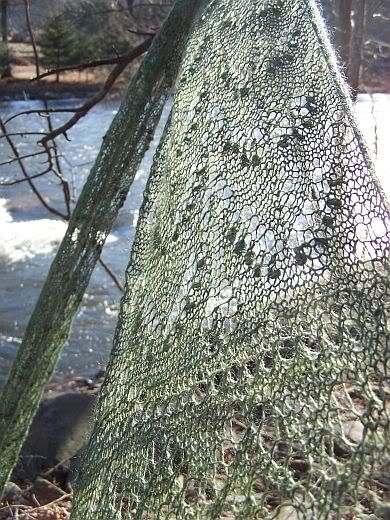 The pattern for my scarf appears in the book, "Knitted Lace of Estonia" by Nancy Bush. This book is filled with so much history, photos and projects and patterns, that it is one of those books I will read more than once.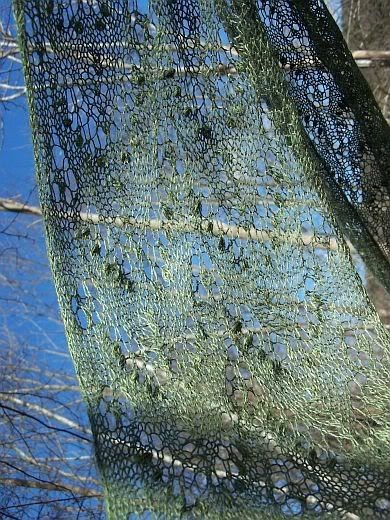 Today was a blustery day, not the best for photo documenting project details...those details danced away in the sun and wind.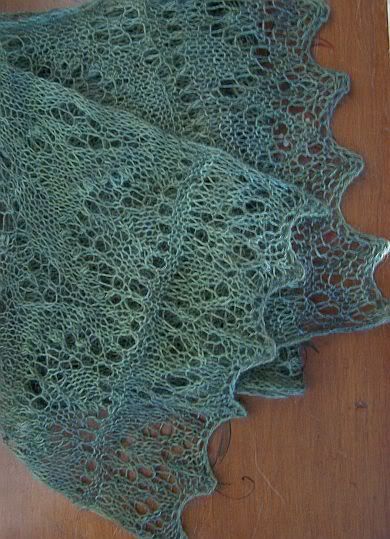 Ready for shipping, Queen Silvia rests on the wooden bench beside my worktable. I will pack her up and send her out soon. She has been a good friend to me for the past 5 months...she even taught me how to love a nupp. Goodbye, Queen Silvia, until we meet again! or not.