A few months ago, my virtual friend, Catena Cathy, sent me a small package of a sampling of Gotland locks that she had been working with...a surprise in my postoffice box! They came from Riverbend Gotlands and were the first sample of Gotland locks that my hands had ever touched. With SO many different breeds of sheep in the world, it is always a thrill for me to sample something I can add to my breed notebook.
Hailing from the Swedish Island of Gotland in the Baltic Sea, the Gotland breed (through artificial insemination) have been in the United States since 2003. I feel fortunate to have the chance to work with the samples. You may have noticed that the locks were from New Jersey and arrived by way of Colorado...pay no attention to that..suffice it to say that Catena has "ulterior designs" and I am more than happy to acquiesce.
Soon after I started to work with the locks, another virtual friend, gypsyspinner Jody, was kind enough to send me a sample of the Gotland Blend batts that she is working up with the fiber from Hubbertfarms. The samples are of special interest to me since I work with a good deal of Alpaca, and Jody has been working up her own blends of Gotland and Alpaca. Jody sent a note that explained that the batts had been hand prepared and the the Gotlands were 75% with the balance of Finn or Shetland..(other favorites of mine!)
Here is a close up photo of the basket I'm currently working with, it contains the steel gray, lustrous, full of curl and energy, soft and silky locks and beautifully prepared, ready to pick up and spin batts.
I got friends. I got gotland. I iz a happy spinster.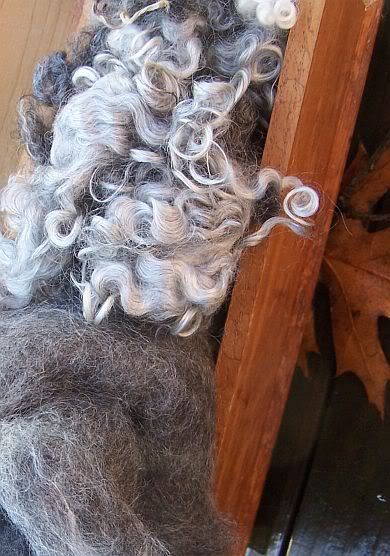 So ...at some point in time.. at a Hatton Friday-dyeday..I took handfuls of my locks and tossed them into different dyepots. I wasn't sure what I was going to do with them..just wanted to experiment.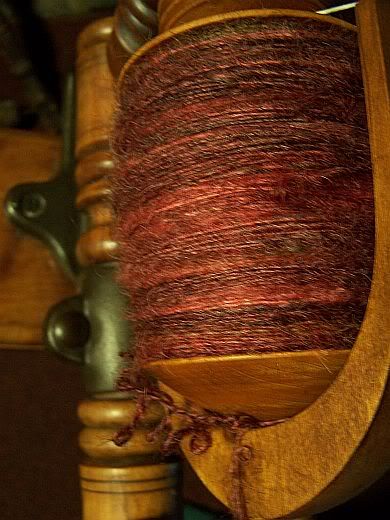 Over the last few weeks, I've been hand carding the dyed locks and spinning out the color. Such a pleasure to work with! I have been spinning long draw, letting some of the curls fluff out, making an irregular soft yarn, which I finally decided to Navajo or chain ply. I was doubtful that my singles had enough integrity to stand on their own, and I wanted to preserve the color runs...so the chain ply seemed like the right choice.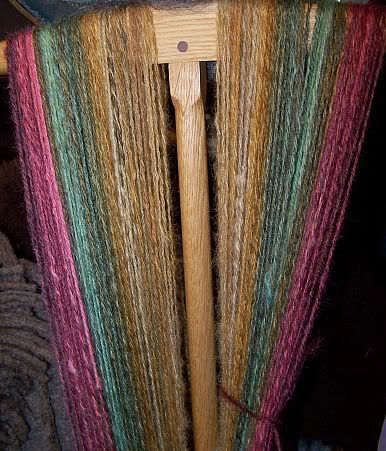 After that, I wound off onto the niddy-noddy and skeined almost 120 yards of a 3ply woolen yarn with 8-10 wpi...that I soused and thwacked to within an inch of its life.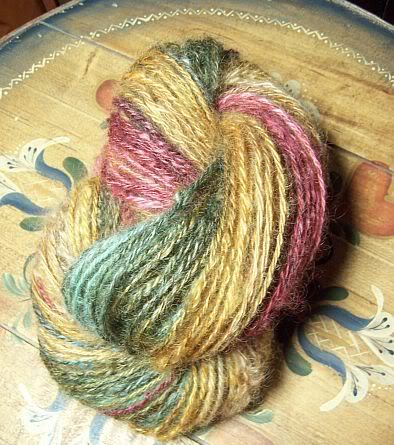 I intend to spin up the remainder of the grey roving and locks that are still in the basket, so that I might have enough to do a color-work hat.
Many thanks, Cathy and Jody! I only wish we could meet IRL--but I am enjoying working with both of you through the blogosphere...for now...anyway...until the time comes that we can sit down and spin together..somewhere!