About a month or so ago, I was asked to write an article for the MAPACA (Mid-Alantic Alpaca Association) Summer 2011 Newsletter about how I prepare Alpaca Fiber for spinning. The article was to be featured under the regular section, "
What are the Alpaca Bloggers Saying?"
Yesterday I received my newsletter in the mail! What a fun thing to see my words and photographs in print in the glossy magazine type format!
Here is a snippet: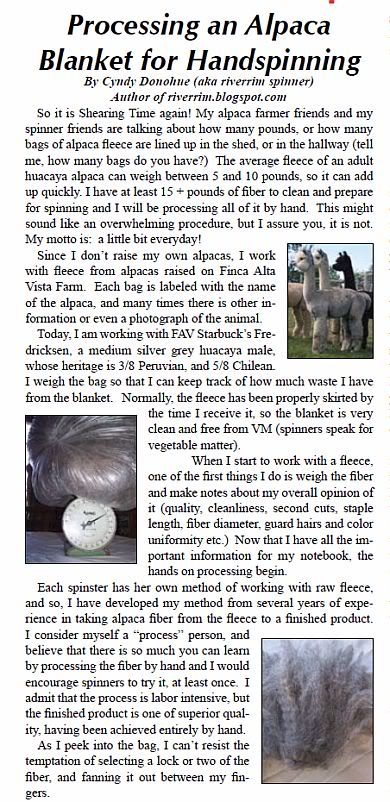 To read the entire article, you can go directly to the MAPACA website. You may easily do this by clicking the link to the MAPACA Newsletter that is conveniently located on my sidebar. Just click on the MAPACA button (on your right) and it will take you to the page that lists all of the issues. Select the one you want to read (ps..my article is in the Summer 2011 issue- on page 18)... and click to download the PDF file.
The opportunity to write the article gave me the pleasure of working with Diane Beauchner, who is the Editor in Chief (and also author of two great articles in this summer's edition). Apparently, the experience was a good one for Diane as well, and I have been offered my own column! I'm pleased to announce that I will be writing for the MAPACA newsletter and you may look for my "Alpaca Notebook" within the pages that are published quarterly by American Livestock Magazine & Publishing. I hope you find the publication to be as informative and interesting as I have! I am delighted to be associated with and working for such a terrific organization.