Do you about
Tomtens
?
Well, of course, you probably do...but would you know one if you saw one? Would you be able to tell the difference between a Tomten and a Troll?
I think I have a Tomten. But maybe he is a Troll? I'd rather he was a Tomten. I think he might be. Mostly because he fits the description. He is an old, old Tomten, who has seen the snow of many winters...and no one know when he came here...he has always just been here. And sometimes, we see his footprints in the snow. Some say that Tomtens have features like animals. My Tomten has a nose like a pig. I'll show you a picture of him. Here he is.
But he might not be a REAL Tomten. You know, because I have him. And I can see him. And take pictures of him. You are not supposed to be able to see real Tomtens. But maybe my Tomten comes to life when I am asleep.
Someone made my Tomten with their hands. They carved his feet.
They patched his pants.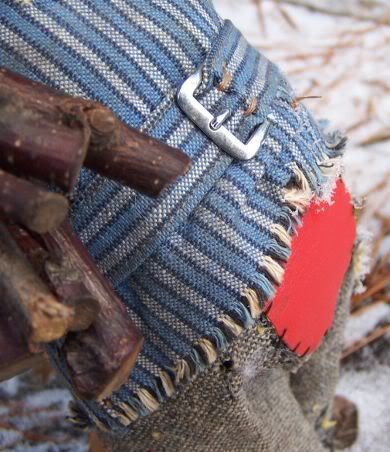 They knit his socks. And they knit him a hat.
His hat needs mending, but I don't dare touch it. I don't want to disturb the Tomten mojo.
I take him out of his house sometimes and put him near the window so he can look outside. His house is in the bottom portion of my Victrola cabinet..just in case he is a troll. It was pointed out to me by a friend- that living in a VicTROLLA is a good place for a Troll.
When I set him near the window, he takes on a strange shape in the moonlight. He must be Tomten. He talks to the chickens...in a silent little language chickens understands, "lay me an egg my jolly chickens and I will give you corn to eat." and he talks to the sheep...in a silent little language the sheep can understand...
"all my sheep, all my lambs..the night is cold, but your wool is warm and you have aspen leaves to eat."
Yes...I like to think he is a Tomten. Winters come and winters go...
If you don't know the story of the Tomten you can listen to it here.
May you have a very happy Christmastime, Yuletide, Wintertime or Holiday..whatever you celebrate... watch for the Tomten!