After a few days of rain, the river levels were about 7 feet higher than normal today. A blue sky reflects its color in the muddy waters. Weeks have gone by without a walk down by the riverrim, so it was especially nice to soak up the sun and watch the water rush by. A few days ago, when the river was cresting, pumpkins tumbled over riding the white water..I thought how disappointed the farmer must be, an entire growing season stolen by the river!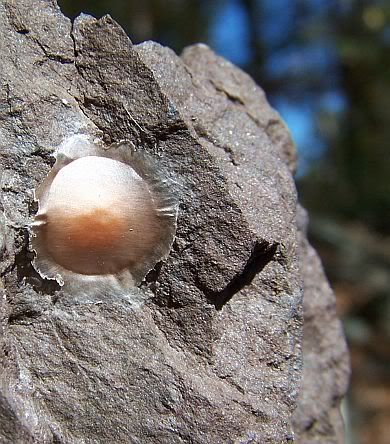 I collected some rocks today, for a future project....I took my time selecting exactly the type of rocks I wanted. As I turned the rocks over in my hands, looking for just the right shape, I discovered a curious egg case. I think it is beautiful!
What creature made this? Spider? I wonder...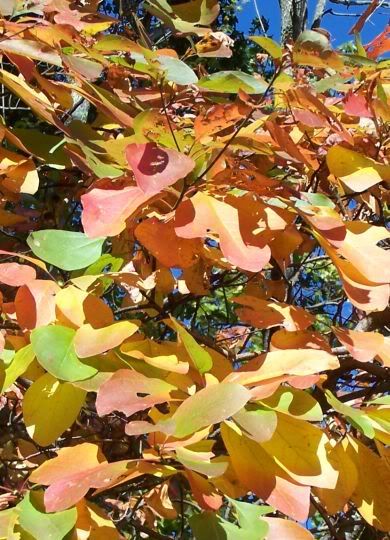 Sassafras mittens of orange and red and yellow are waving to me, overhead. Sassafras is always the first to go, the rest will follow in a few weeks. The passenger train, with 5 cars full of leaf peepers, sounds the whistle at the crossing. I wave to the passengers, my hands feel the cool of the mountain air... soon I will be wearing my mittens too....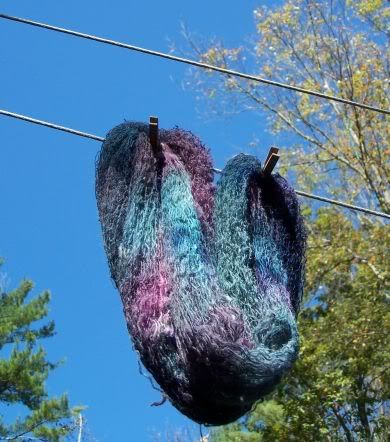 As I walk back to the cabin, I notice my yarn is still on the line. On Friday, Grace invited the spin group over for a little dyeing...I'm drying some singles..."dyed THEN plied". The plying part comes next.
I love seeing the yarn on the clothesline...it says "a spinner lives here!"