summer has arrived, and it has been hazy, and crazy...but far from lazy. i try to keep up with "things". returning to the garden always helps me slow down and notice the steady pace of nature...i take note and i try to remember to slow down and to pace myself in the fast lane of everyday living.
i'm happy with the pea trellis that i built this year, my peas are starting to set flower...it won't be long before there will be peas. the poles and the vines are taller than i am, and the trellis is holding strong in the high winds that accompany the thunderstorms. i'm growing a good crop of norli snowpeas, a dutch variety with a lovely purple blossom. my seed bank supply of this variety has been dwindling, so i'm hopeful about a good harvest.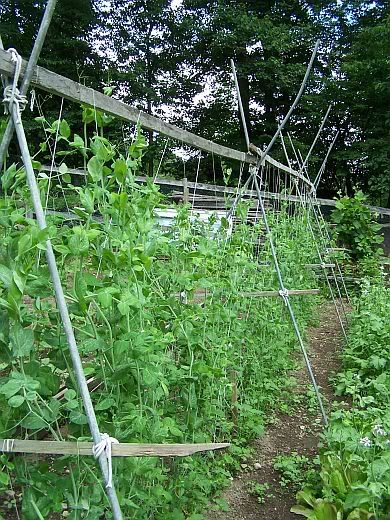 the daylilies are coming in, the reds...
and the oranges...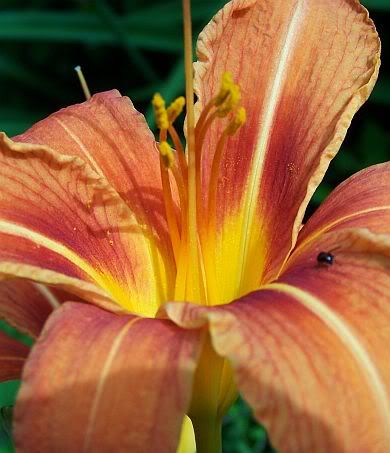 Leucanthemum vulgare, oxeye daisy....marguerite...moon daisy, dog daisy ...he loves me..he loves me not...they line the roadside where I walk
...by all accounts, he loves me.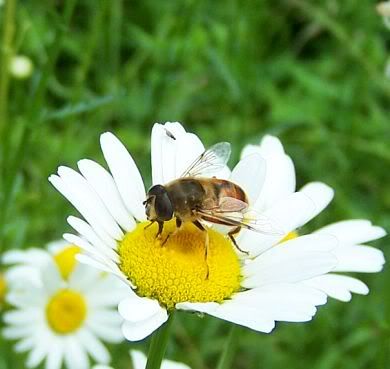 beeflies amuse the eyes..."is it bee? is it a fly? it is a beefly." this one is a villa, i think.
Bufo americanus lives here...eastern american toad... in her red phase...at least i think i should say "she"...the color of the throat may be darker if it was a he. size would also be an indication of the sex, with the females being larger than the males. this toad was easily the size of the palm of my hand.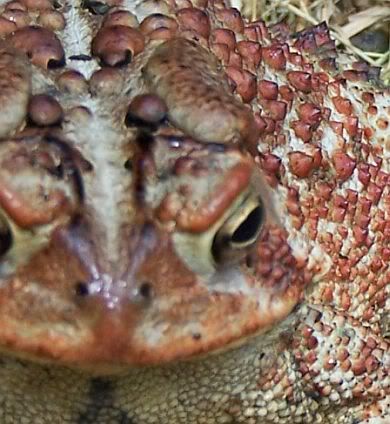 is it any wonder that some people think you can get warts from a toad?
while these warts may secrete a noxious milky bufotoxin, you cannot get warts from it....but i do remember reading that the native american indians from this area would use the toxic secretions to dip the tips of their arrows in. ouch!
the elderflowers from the black elderberry trees are everywhere! it will be a good summer for the berries, if all goes well, i will restock the shelves with jam and syrup and cordial. there are enough flowers this year to also pick for drying for tea. i don't care for the flavor by itself, but when mixed with lemon balm leaves and blackberry leaves etc. i will take some if needed for those winter colds or sore throats. elderflower wine (elderblow) is something i've never tasted, but i have heard that is is delicious and has a beautiful pale yellow color. other things like salves or oils or bath salts can also be made from the dried flowers. (always use caution with leaves or stems and seeds...those should not be ingested)
a walk through the garden leads me down the path and stops at the hillside where i can see and hear the river..although it beckons "come and swim", the water is still to cold for me to enjoy it...maybe by mid July...