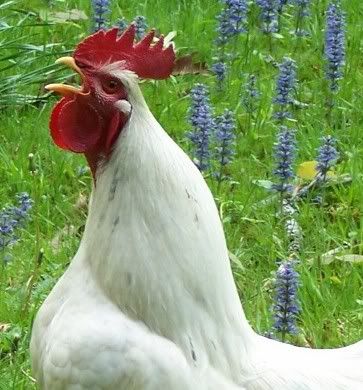 Spring is now in full swing, everyone and everything feels it. The young cockerel announces it several times a day and the songbirds agree.
The oriels have arrived, and the American Redstarts are back as well. Catbirds are late this year, along with the hummers...and we have not had a sighting yet.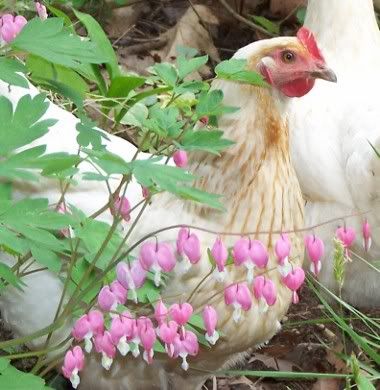 Some of the late spring perennials bloom, while others are fading already. The sister to the cockerel hides behind the Bleeding Heart blossoms.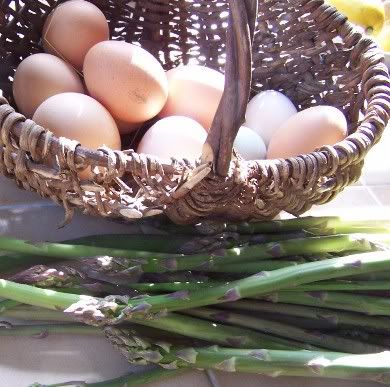 I've been making a point to get the eggs out of the henhouse early each day. I have 2 broody hens who keep looking around for eggs to set on. One of the hens has been sitting on a billiard ball for 2 weeks now! As a result, I have to collect the eggs before they find them. Part of my routine includes checking the asparagus patch and picking a few spears to add to the zip lock bag in the fridge. It is a leisurely task that I enjoy, as it gives me time to notice new sprouts of peas and lettuce and radishes that were recently planted.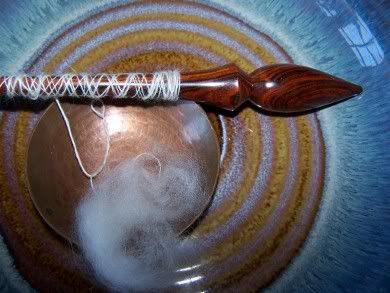 A birthday gift of this beautiful support spindle by Fred Hatton holds a blend of Alpaca and Cashmere that will become the edge of the pashmina shawl/scarf that I am working on. Support spindling is one of my favorite things to these days. When I get a spare moment, I sneak off with one...maybe over a second cup of coffee a little after sunrise...or after supper on the deck..just before sunset.
BTW..sunset is happening as late as 8PM. This gives us a full fourteen hours of daylight to enjoy. Good thing, because there is a ton of work to be done around here! And it leaves little time to spin.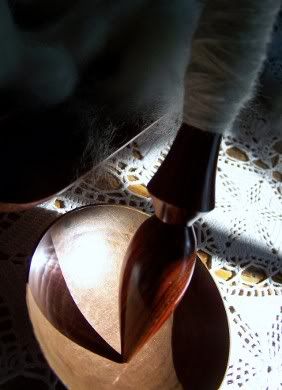 However, with something as enjoyable as sitting down to relax with spindle, it is easy to squeeze in a few minutes somewhere during the day...and it is amazing how quickly all those moments turn into yards!