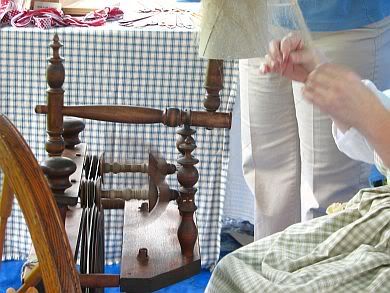 The Fiber Festival at Fort Delaware was so busy, that I didn't have time to take any photographs. My good friend Judy was kind enough to email these photos that she took of me while I was demonstrating double-flyer flax spinning. Thanks, Judy!
Looking at the photos gave me pause.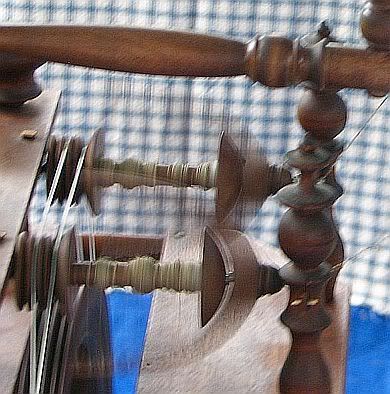 The idea behind the double-flyer wheel-was obviously all about production...and it is by far, the most challenging wheel that I have ever met.
Getting a steady rhythm, and producing two equally consistent threads at one time, with one hand on each thread, is a demanding task.
I have yet to be satisfied with any of the linen I have produced on this wheel. Many hours of practice remain before I would be able to achieve a fine thread...if ever! So it makes me wonder. Just how many spinners were able to make fine thread on this type of wheel? And yes, perhaps they were able to produce twice as much linen, but did the quality of product they produced, deteriorate in the process? Quantity is not always better than quality.
Quantity..according to merriam webster: is the aspect in which a thing is measurable in terms of greater, less, or equal or of increasing or decreasing magnitude...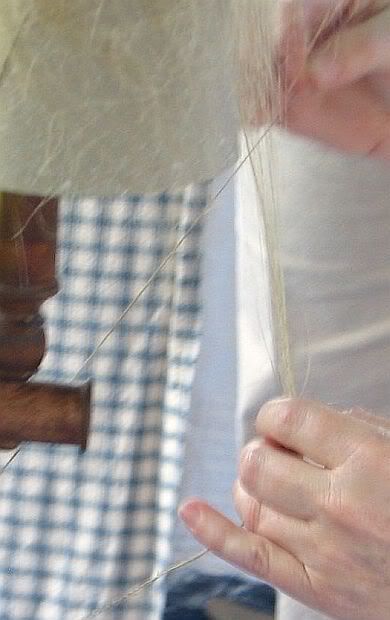 Quality is defined as a degree of excellence ...merchandise of quality.
I think about other areas in my life where quality is sometimes forfeited due to quantity. I remind myself, it is good to strive for quantity, but not at the expense of diminished quality. Funny, the things that spinning can teach me.