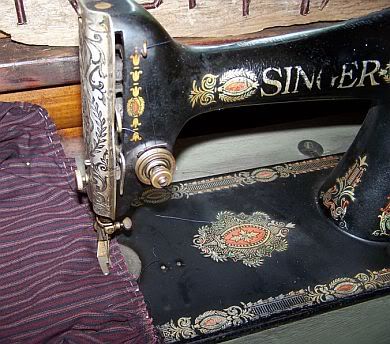 There is going to be a fiber festival at Fort Delaware in Narrowsburg on August 29th. I will be vending in the Hatton's booth. In addition to making buttons for sale at the festival, I am making a pioneer costume to wear. I decided to sew the skirt and got a pattern at "Abrahams Lady" when I was down in Gettysburg last month. My old singer treadle machine needs a new belt. I've tried patching the old one, and it finally gave up, there is too much slack on the belt and it won't grab. I finished the waistband on the skirt by turning the drive wheel by hand, ugh.
The garden is not as productive compared to years past. The weather has not been cooperative. There are, however, some vegetables that are performing and showing reasonable yields...on an average day of picking I'm getting at least a gallon zip lock bag of broccoli side shoots, a little over a gallon of green beans, 6 or 7 sweet peppers, 4 or 5 summer squash and 8 or 9 ears of corn. The elderberries have ripened and so have the crabapples. Oh, and the chickens continue to be productive!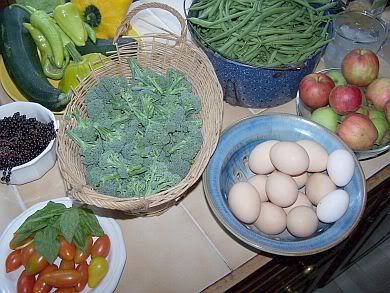 I picked the Whitney crabapples, and the size of them makes me happy. The tree didn't produce many blossoms this spring, but the individual fruit that developed from each blossom was impressive!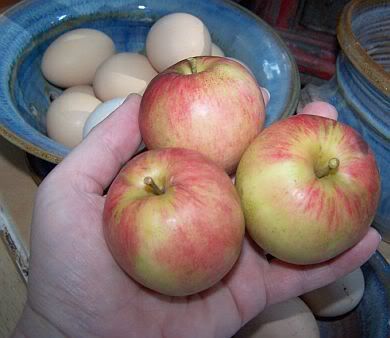 The summer squash is starting to come in, and it is important to check the size of those each day, least the zukes become as big as baseball bats...the patty pans are called "flying saucer" I think...or was it UFO? UFO is appropriate where my knitting is concerned, I haven't managed to finish many projects these days...
Finally, the sweet corn is ready. The ears are only about 8 inches long, but fully pollinated ears are always a blessing.