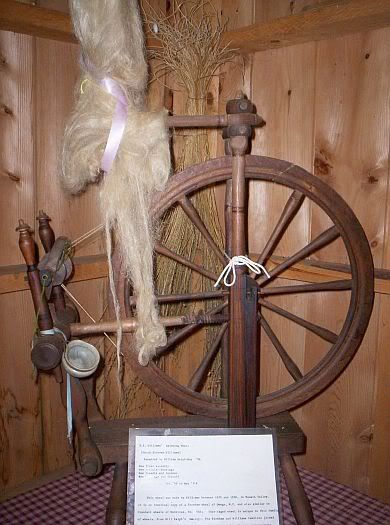 Over the past few weeks, I have met some interesting spinning wheels in my travels. It is of no coincidence that all of these wheels are made to spin flax. I am lately fixated with flax and flax wheels... This first one (above) was made by Enoch Slossen Williams, sometime between 1820 and 1830. It lives at the Old Mill Village Museum.
It was repaired by the late Bill Ralph, in 1996. It is an identical copy of a Farnham wheel...of Owego, NY. "From Bill Ralph's memory--The Farnham and Williams families joined when a Farnham maried E.S. Williams and he learned from Farnham how to make wheels".
I love how the water pot is tied to the mother of all.
This little flax wheel lives at the Mannings Handweaving School in East Berlin PA.
Notice the cut out shape in the bench....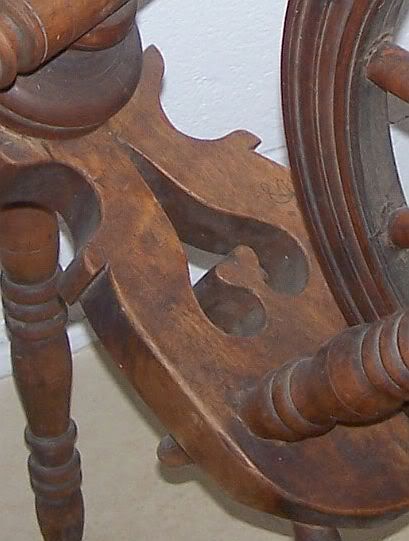 This Double Flyer wheel lives above the other wheel. It is on a shelf that is up high, so I could not see it very well to examine the way it was set up. I imagine it is out of reach for a reason.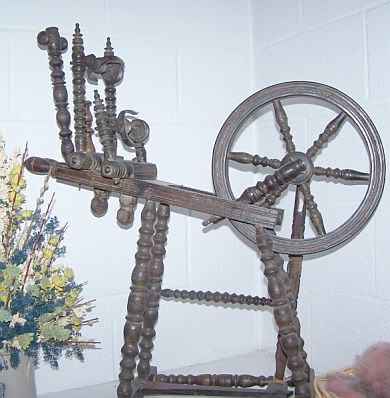 It is interesting to me because I have never seen a double flyer wheel in a saxony style. I wish I knew more about this wheel.
I tried to look under the bench for a signature but could not see anything. It appears that the top portion of the distaff is missing.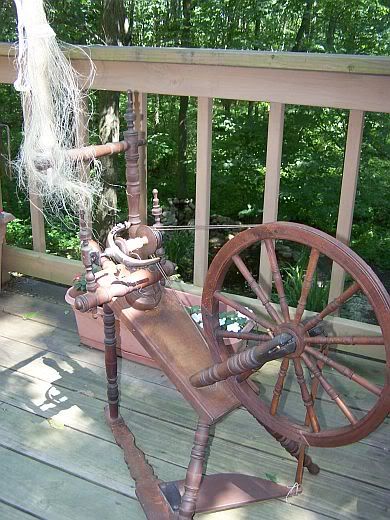 This little flax wheel is sweet and lovely..she lives at my mother's house. This wheel was also missing the top portion of the distaff, but Fred Hatton made a new one for it. You cannot see it pictured here because the flax is covering it. He made a beautiful line distaff that I managed (somehow) to dress properly.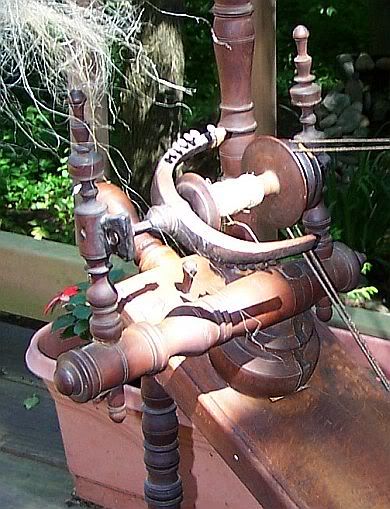 The bobbin/flyer will eventually need to be replaced as well. Those nails have got to go! I did manage to spin some linen thread on her. I fed her some oil, tied up her treadle and cleaned off the shaft (which was really gunked up). As I was spinning, I wondered about the last time she saw flax on her bobbin...
I don't know much about the history of this wheel or the maker, if anyone has any ideas about it, please feel free to email me!