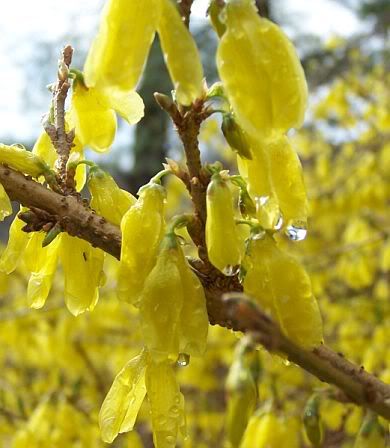 The forsythia tell me that I need to plant my peas.(done)
They are an indicator plant for me.... phenology indicators....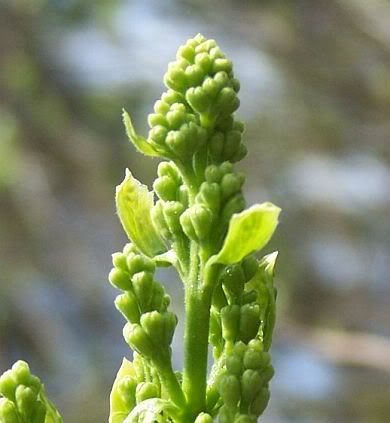 The lilacs give a lot of information. When the first leaves show up, it is time to plant the potatoes (done). One must also factor in the moon...(planting above ground crops on a waxing moon, and below ground crops on a waning moon)
When these lilacs finally bloom, it will be time to plant the beans, corn and squash. This will be about the same time that the blossoms fall off the apple trees. There are many signs to watch for, look around and notice.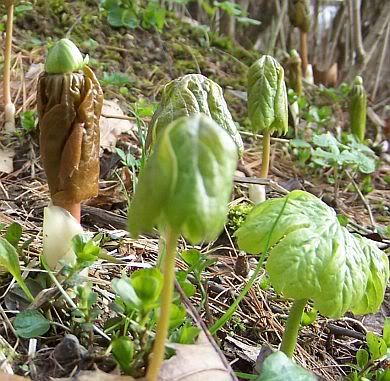 The mayapples open their umbrellas for the rains, I watch for the insects to take cover under them. The wasps and other insects are cold blooded, and their development and building habits are closely related to temperature. They tell me when it is safe to put the tomatoes out of the greenhouse and into the garden.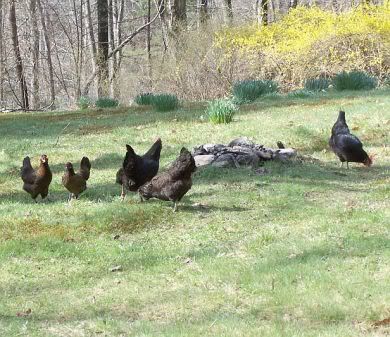 We had a nice bonfire going the other evening, but we were chased in by the rains that doused it. The lightning and thunder were spectacular. There was one giant strike that shook the china on the hutch! --the chickens are gleaning up the crumbs after the bonfire...