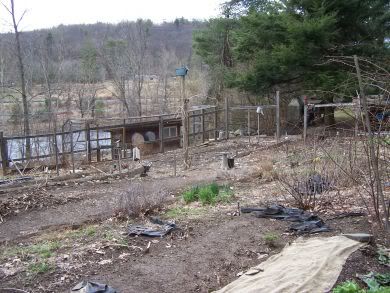 Over the past few weeks, there has been lots of cleaning up and raking off in the garden. The garden measures 50'x75' and it is on a slope with raised beds that are stepped. It is hard to get a good perspective for taking a photograph that shows the size. This older photo was taken from the top of the slope. I'm standing in the Asparagus bed, near the rhubarb and the currants...looking out to the river and the hen house in the background, you might be able to tell that it is built into the hillside.
I've been waiting for a rainy day to burn some of my garden debris. You may be wondering, "Why burn instead of compost?"
While it is true that I compost most everything (weeds- leaves- chicken and rabbit manure- grass clippings- kitchen veggie waste and egg shells)...I do have my limits. I never compost the spent plants from the garden. I usually pull the entire finished plant (tomato, corn, bean, broccoli etc. etc.) and pile them up for burning. Burning will kill off any disease or spores and pathogens that some plants can carry. If a compost pile does not get hot enough, some of these pathogens will survive. If you then spread the compost and till it in, you would contaminate your soil. So burning these old plants is one way of keeping things clean.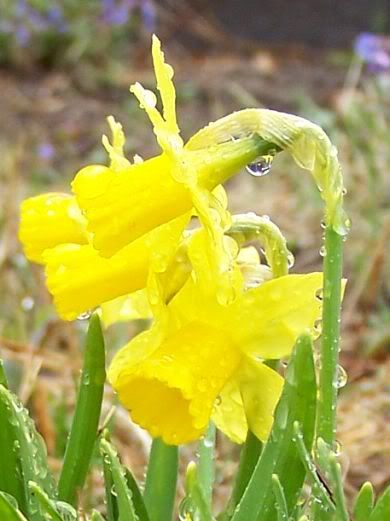 Yesterday, the skies opened and it rained. Heavy, buckets of rain. I made a quick courtesy call to my local Comm center to inform them of my plans...and then set fire to the debris pile just as it was starting to sprinkle..a gentle rain.
The piles flared up quickly, but then smoldered as the rain started to fall steadily.
As I raked in the rain, the flowers kept catching my eyes. The color has started...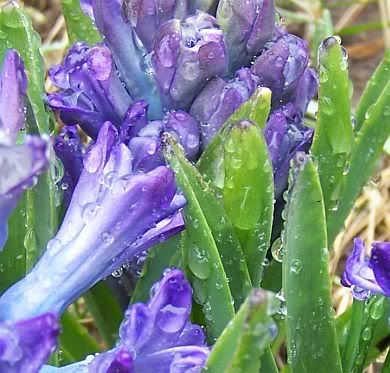 Now that things are cleaned up, the garden looks fresh and ready for planting season. Soon it will be time to turn the winter rye under. Green manure...the best kind there is.