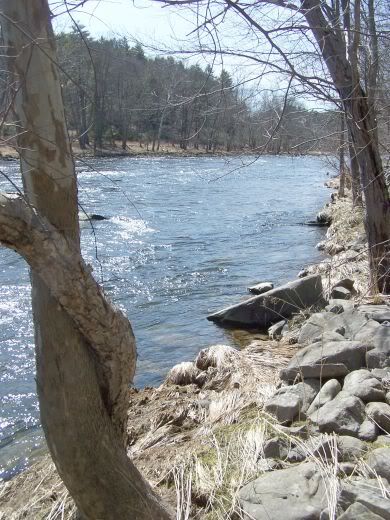 These are busy days. Time is spent on winter clean outs..the henhouse...the greenhouse...the garden...the cabin. Hours are divided between them~ listed in order of priority.
Fiber pursuits fall to almost the bottom of the list. On a beautiful day, the river beckons for me to come and sit beside it in the sunshine. On my way out the door, my weaving calls to me..."take me with you!"
The double hole tape loom is easy to tie to a sapling. The other end is tied to me. I become one with loom ;-)
Lean forward, relax the tension and select threads, lean back, lift the heddle and shuttle through the shed.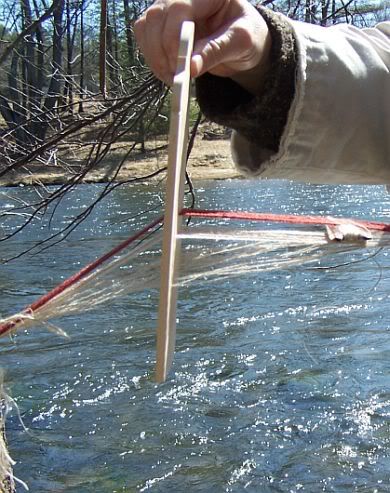 there is nice rhythm involved, and my mind flows with it, selecting a piece of music that has been with me for days..I slow it down to keep the time...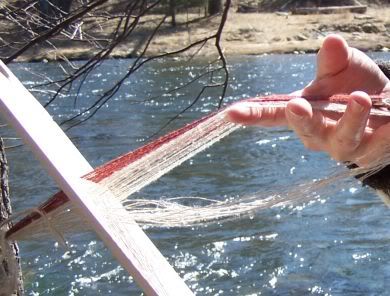 My fingers sometime snag on the threads..the disastrous effect of dry skin, cuticles and nails being damaged from too much garden work. I've been trying to keep up with a nightly hand care regimen.
my point of view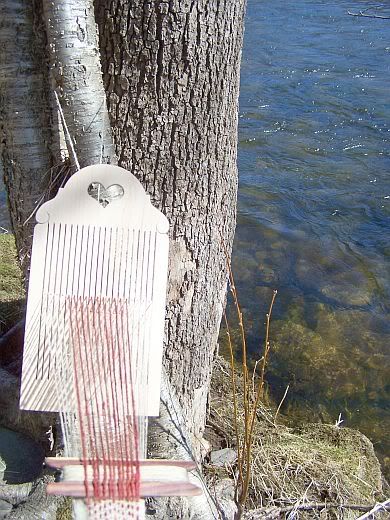 Although I could easily sit here and weave the afternoon away, I am allowing only an hour. I congratulate myself for having the discipline to pack it up, and head back to the cabin..where an overhaul of the bathroom awaits. I purchased a new shower curtain in honour of the event.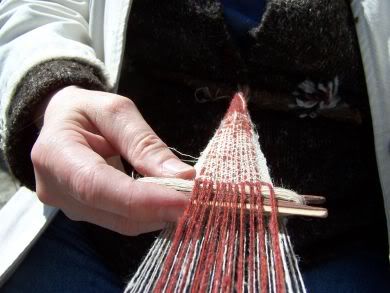 Yesterday, I cut this off the loom and started over. The silk and the linen were not working well together..I think my linen was to thin, or perhaps it was the silk, anyway the pattern didn't pop like it should. I started over with some handspun Wensleydale in place of the silk and it is giving me better results.