So the winner of the guess the weight of the spindle is
DebbieB
(Debbie, please send me your address- I have something for you!)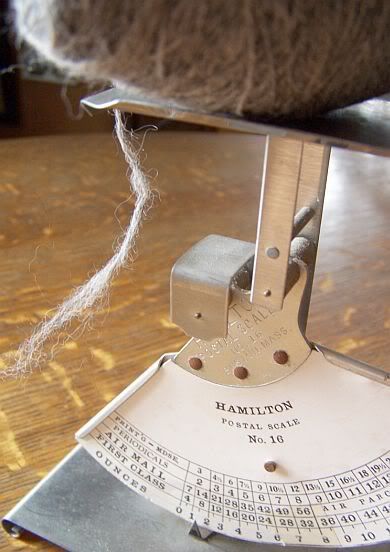 As you can see by the photo, the cop weighs in at a little over 1.5 oz. Add in the spindle weight...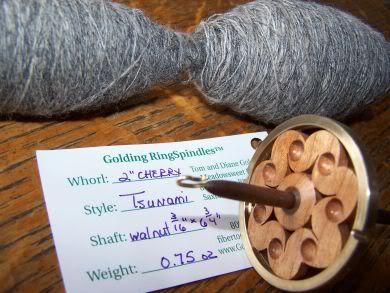 and your total is approximately 2.25 oz. Now I just need to ply this up and I am finished with spinning the cria alpaca. I'm anxious to see my total yardage numbers for Violette. Stats can be interesting AND educational for the spinner.
Thanks to Loyce for posting to the Antique Spinning Wheels Group on Ravelry about how she dresses her distaff for the Double Flyer Spinning Wheel. I had been having trouble dressing the distaff. I had tried the "ponytail" hang down method...and the cross-combing method, but the flax was too long, and it was getting tangled in the process of spinning. Loyce explained that to shorten the fibers, I needed to make a wider fan with the flax before placing it on the distaff. Thanks Loyce!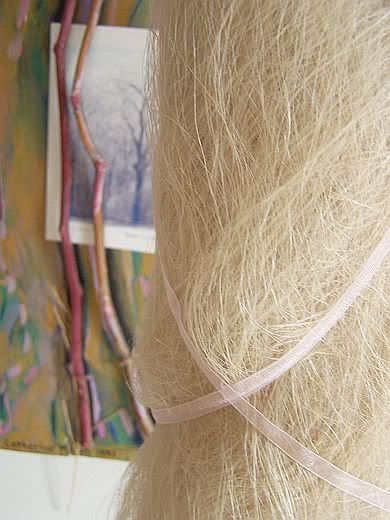 I tried it out this weekend. My Ashford Traditional does not have the distaff accessory, so I improvised by using two wooden dowels. The flax looks very inviting, my fingers got itchy and I had to try it out, ... it works fine.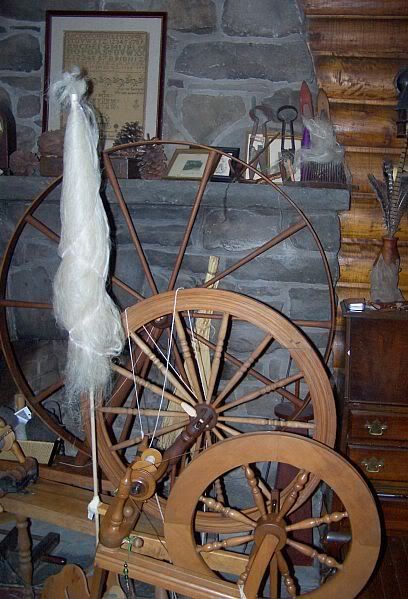 When I catch sight of it out of the corner of my eye, I can't help thinking that my wheel looks like it is about to compete in a jousting tournament...the distaff reminds me of a big lance!