As a fiber-artist, I collect and store materials for future projects. All kinds of materials. This does not seem like strange or unusual behaviour to me...it is just a necessary part of the process...bits and pieces of a project being stored up in some stage of processing until it becomes a finished object. So what if there are numerous baskets of fleece strewn about the living room? I'm working! It only seems strange when someone who does not know me very well, steps into my house and has a look around. Usually, they don't say anything, but the look on their faces reveals that they are probably thinking I'm a little bit weird. Sometimes they even ask questions...like the other day when someone asked me,"Why do you have weeds hanging on your wall?" They were referring to this...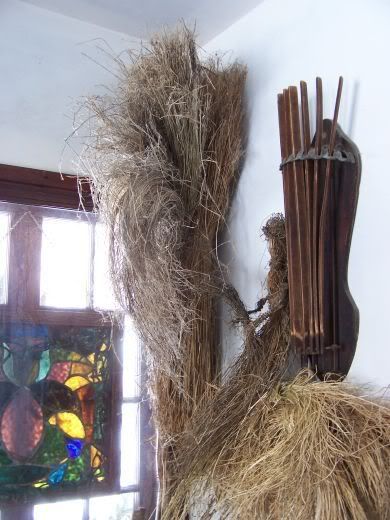 my flax stash.
Poor unsuspecting person, how would they know, that by asking this question, they would prompt me to launch into an enthusiastic explanation about the wonders of growing, processing and spinning your own flax into linen? I invite them to step a little closer and notice the difference between the color and the texture when comparing dew retting with water retting...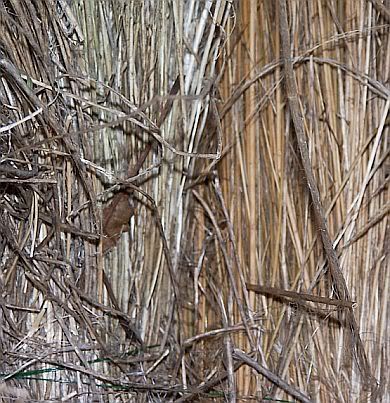 I explain about the before and after effects that retting has on my flax maiden...

.....their eyes begin to glaze over when I start to explain how the Dutch, or the Irish or the French would ret their flax - and I realize that I have now given them too much information in response to their innocent question. They really aren't that interested...and they still think I'm a little weird.
I have little bundles of flax about the house..in different stages of production....hanging on the back of the door, are these bundles of flax that are still drying...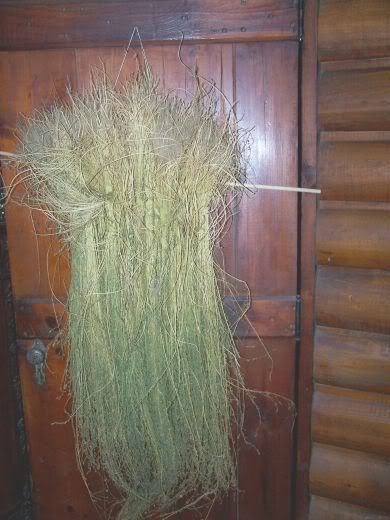 ... waiting for the retting process. That is one of the beautiful things about flax, it can be stored in different stages of processing and it will not damage the finished product. And you don't have to worry about moths either.
Those who live with me are tolerant of the things that pile up, and I am grateful for that. They no longer blink an eye when large baskets of fleece from an animal weighing close to two hundred pounds- suddenly appears in the living room, or bundles of dried flax are discovered hanging behind a door. They understand that what I am doing is hard work because I constantly tell them so.
I should be more tolerant of their things that pile up, but I fail to see the purpose of dirty sweat socks and electronic accessories and numerous guitars accumulating to the point where there is no longer a place to sit down in ones own room.
It is hard to be tolerant when it is the middle of January...and the temps outside are at near or below zero. These conditions are stressful...and they create what is known as Cabin fever...it is a real thing. I know. I live in a Cabin. Wikipedia defines it as " an idiomatic term for a claustrophobic reaction that takes place when a person or group is isolated and/or shut in, for an extended period. Symptoms include restlessness, irritability, forgetfulness, laughter, and excessive sleeping."
The best way to deal with it is to go outside--get out of the cabin for awhile...and take a walk!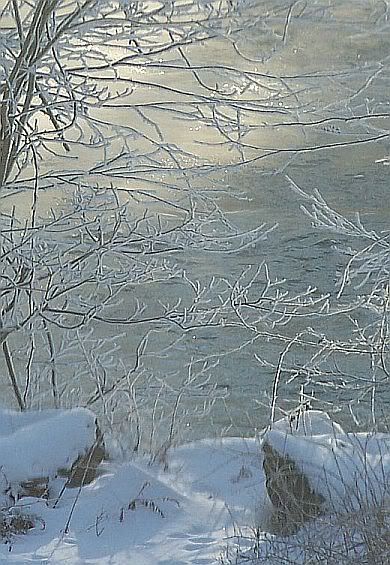 Burrrrrrrrrh!
Think I'll go back inside and sit by the coal stove and spin flax. Maybe I can make a dent in my stash..