Have you ever tried to help someone knit over the phone? My mother has been trying to knit a pair of mitts for her Doc. She ordered the pattern and yarn from the fall 2008 KnitPicks mag. I told her I would help her out if she hit a spot that she couldn't do. I figured I should knit along, so I copied the pattern when I was visiting with her.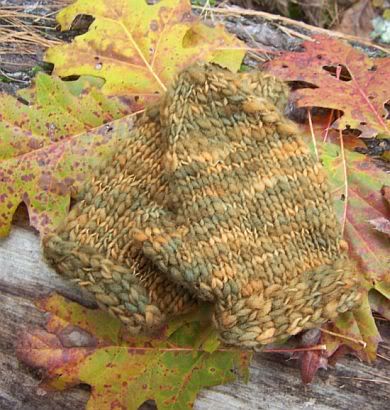 These are "Negative Space Mitts" from Knitting New Mittens & Gloves by Robin Mclanson. I used some hand-dyed handspun thick and thin superwash that I had in my stash. The book write up states that it is "ideal for beginning knitters"...hummm...this pattern features a provisional cast on and an I-cord BO with Applied BO over 5 needles. I would say those stitches are not exactly for beginners. Needless to say, my mother has hit some tough spots, but we have been working them out over the phone. This has proven to be an exercise in my communication skills.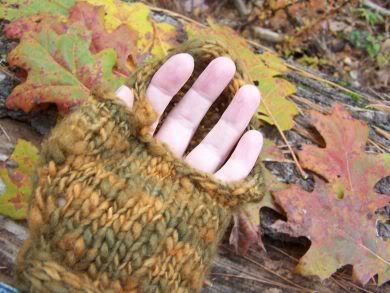 My mother is frustrated. She is at the point of the I-cord BO...so close ... The negative space mitts are quickly becoming the negative vibe project. I told her to set them aside. Knitting should be enjoyable, not frustrating. She will pick them up again when she is ready, and I will cheer her on--and they will be finished someday.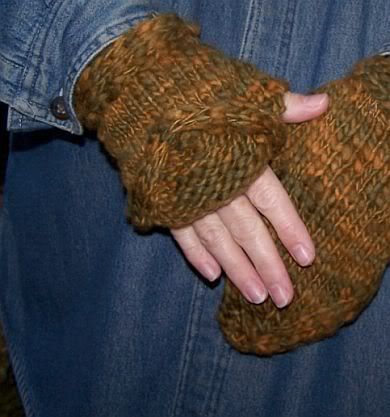 Meanwhile, I have finished mine. They are a bit, unusual in their appearance. I have been using them as work mitts and walking mitts. I'm not thrilled with them, they are just OK.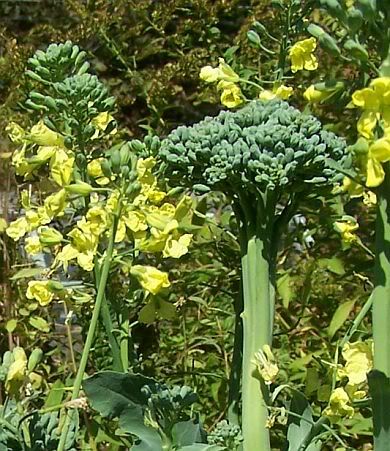 I wore them into the garden when I picked the broccoli. The broccoli is still coming in nicely. I am leaving some to seed up for sprouting over the winter, the sprouts are a nice addition to salads. There are lots of flowers that I add to the salads now.
I took the mitts off when I pulled the carrots. The carrots are some of the best I've ever grown. They are so sweet and tender. We have been enjoying carrots almost every other day.
One reminder to self--fall broccoli needs to be checked for cabbage moth worms...see photo..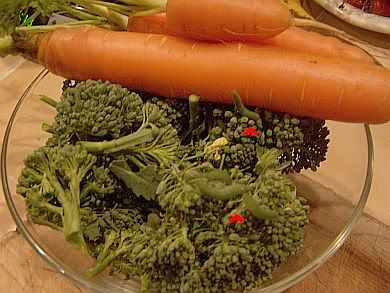 ..during the summer, I set up homes for the wasps. They move in and patrol my broccoli patch...flying off with the worms. The wasps have long since disappeared to where ever wasps go in the winter....leaving the cabbage moth worms to multiply and munch my broccoli. A good salt water rinse removes them prior to steaming.