crotalus horricus...light phase...although the tail is always black. Some say the number of buttons on the rattle indicates the age of the snake...others say it only indicates the number of times that the snake has shed his skin. If you don't want to see any more of this snake, I'd turn back if I were you.
A few weeks ago, we encountered a rattle snake in our path. We didn't kill it. It is unlawful, in this state, to catch, kill or possess a rattler, no matter how obtained. Turns out, someone driving on the road either didn't know this, or didn't care. This snake was dead when I found him.
The triangular shaped head is one way to identify a venomous snake.....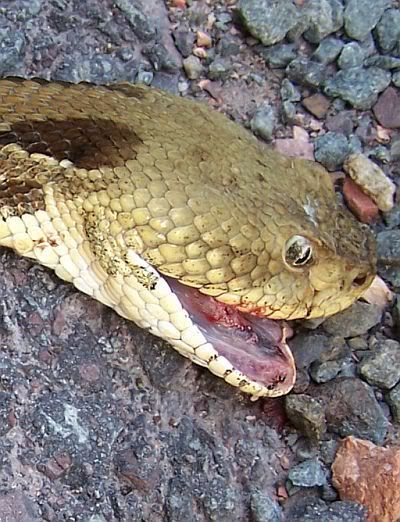 ...vertical pupils are another way. You can hardly see the pits near the nostrils, but that would be yet another indication. This snake was heading in the direction of the river. Some say, that when it becomes hot and dry, the snakes come down off the mountain looking for water. Some say this is a myth.
Some tell me that a rattle snake's territory is usually a range that encompasses about a mile from it's den. This snake was within a mile of our cabin. Some folks say that mature males can travel up to six miles when searching for a female. And some have said that a snake cut into pieces can come back to life if you put it back together before the sun goes down...