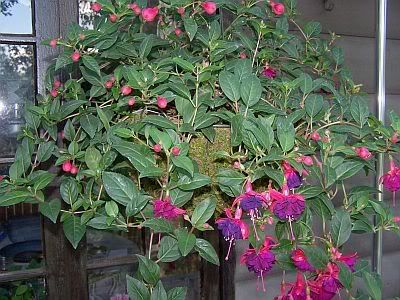 A few weeks ago, we shared the company of a childhood friend, who had traveled East to help celebrate an anniversary of the elementary school that we had attended. Upon arrival, my husband was presented with the very thoughtful gift of a Fuchsia. (more about my gift at a later date).
We have never owned a Fuchsia before, though both of our respective mothers had. We talked about how we had always admired them, but had heard that they can be "fussy"...requiring special conditions in order keep looking as spectacular as they did when you first purchased them.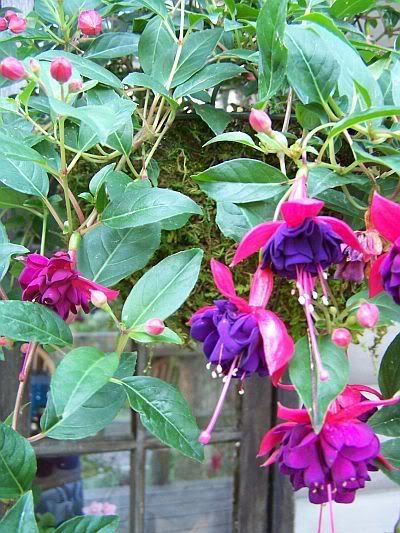 I have heard them called Lady's Eardrops or Dancing Ladies. It is easy to use your imagination and understand why. In the past few weeks we have pampered it, and it seems happy to enjoy the cool mountain air, as well as the humid nights along the riverrim.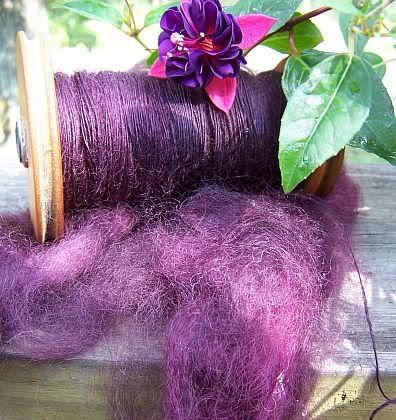 I have been spinning a braid of Wensleydale roving that I purchased at Rhinebeck last October. It had a tag on it that read "Cranberry". "Deep Fuchsia" would be a more appropriate name for the colorway....or "5RP" according to Munsell. ...wouldn't you agree??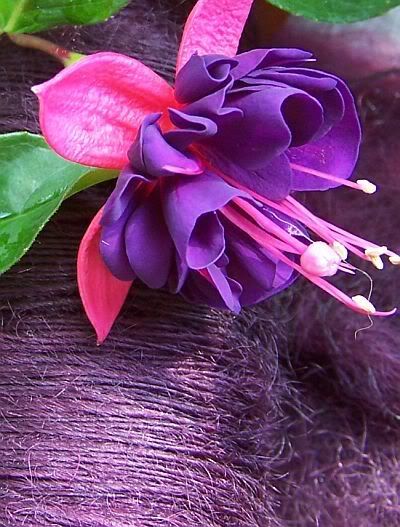 Did you know that Crayola replaced the name "Violet Blue" with "Fuchsia" in 1990?? I didn't. For years I thought that violet blue was my favorite crayon color...now I can answer "deep fuchsia" when someone asks...btw...what is your favorite crayola color??