With the change of seasons, the chores overlap. The cold frame/greenhouse needs to be opened...the winter kill needs to be picked up, tarps need to be removed from the hen house, fence posts around the garden need replacing, (as well as the wire in some spots).... Beds need to be raked out, seeds started, compost turned and spread...there is always so much to be done and attended to. It is best not to look at the whole picture at once, one risks getting overwhelmed..it is better to ease into things slowly, and gracefully...enjoying the process. The Eastern Phoebe is late in her return. Maybe she is taking her time, enjoying the migration.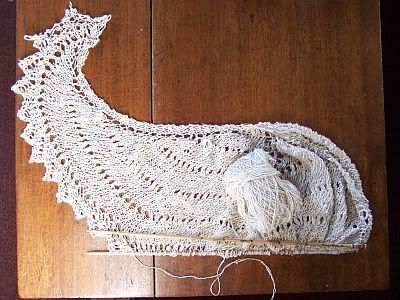 This is a project that I have been enjoying... I started it months ago. As I begin the cast off, I find myself savouring it, really taking my time, drawing it out. I'm not sure why I don't want to finish it.
When I attended Rhinebeck last fall, I had the pleasure of meeting Cindy, of Cindyknits. She was wearing this very delicate and lovely shawl that she made with linen that she had dyed. I admired it, and she quickly offered to share the pattern with me. A few weeks later she not only sent the pattern, but the linen with which to work it! Fiber people are just the best!
This Lacy Winged Shawl pattern was a bit challenging for me, the way it starts off, in the center top edge, really puzzled me. I had to email Cindy for help. She translated for me, until I was able to get it going.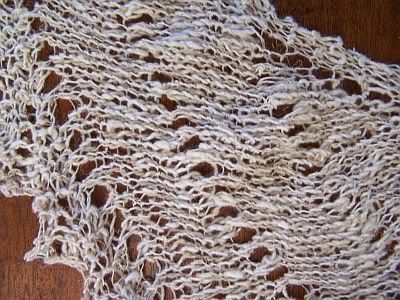 Look close and you will find a few errors here and there...but I love the eyelets, and the graceful curves of the stitches.
And I love how the cast off edge makes these beautiful points... The linen sets them off perfectly. I will make another, someday. I plan to spin the linen myself....from flax that I grow...Big plans, big dreams...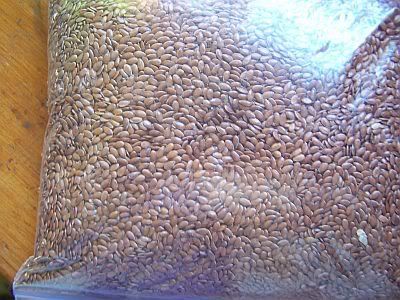 where would we be without our goals? It is important to set them....even if we don't reach them...the process of trying is far more important. Carry on.