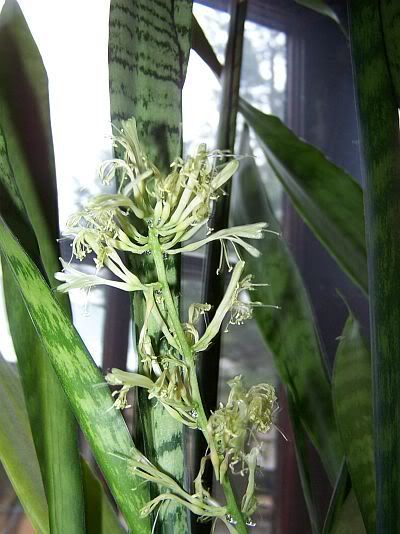 Have you ever seen Sansevieria blooming? Well I have...
It is amazing to me that this plant knows where it came from. It is summertime in Africa now, and my Sanseviera knows this...so they bloom. They send up their 20' long spike full of flowers and buds.....their heavy perfume fills the house each night. The scent is unusual, unique, and there are times I find it rather obnoxious in a paperwhite/hyacinth sort of way....or maybe even a rotten bananna. The fragrance is said to include approximately 69 compounds.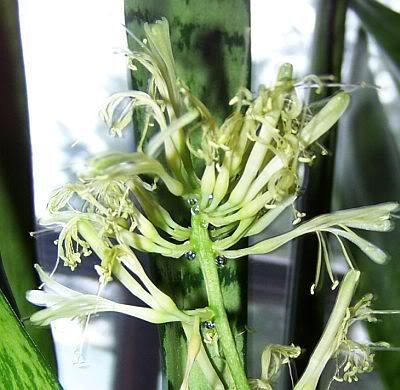 You might know this plant by it's common name....mother-in-law's tongue. I've read that it is called this because of the paralyzing effect that it can have on ones vocal chords...I would not recommend trying it....
These plants have been with me a long time. They are very tolerant of neglect, and poor memory. As you can see they need to be repotted. I don't want to invest in the cost of new pots. And after I repot them, they will not fit on my windowsill anymore. I will have to find a new spot for them to live. We have been having this discussion since last fall (you talk to your plants, right?). They have not informed me of their choice of a new location yet...excuse me, that is not entirely true. They did suggest that they would be quite happy to sit on the stone hearth beside the fireplace where they would enjoy sufficent light and space to grow even larger. There is just one problem, my Great Wheel lives there, and it doesn't have any intention of moving out anytime soon.
The Sanseviera are pressuring me to get busy and pay attention to them. They threaten me that their roots will break the clay pots like they did last time, forcing me to deal with the situation. The latest effort to coerce me? See for yourself....