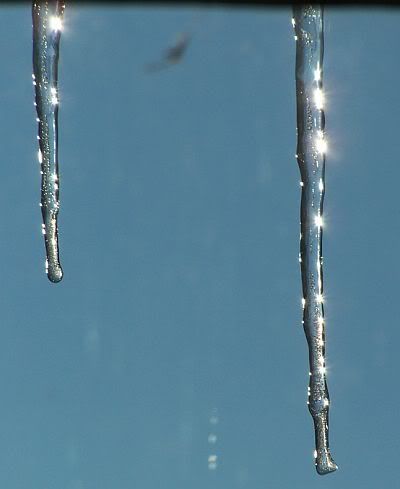 The ice around here makes it difficult to traverse anywhere other than those areas which have been "treated". Even the cat has fallen on her bum! In spite of the extra balance it requires to navigate outdoors, some chores won't wait. Trimming last years canes out of the Blackberry bushes, is one those chores...if you haven't yet done so, now is the time. The sap will soon be on the rise, and you don't want to wait tooooo long.
My bushes are the Navajo Thornless Blackberry variety. This makes cutting out the canes a little bit easier and you don't have to fight the bush as much as you do when you cut the red raspberries (sometimes we don't always do that...) At any rate, looking for the spent canes is not that difficult, they readily show themselves. They are not as colorful and vigorous as the new ones.
You can see by the photo, it is the cane that I am holding that will be cut to ground...Another way to identify the spent canes involves looking at the other end of it, for any signs of spent blossom or fruit.
Although these canes are self-supporting, we do trellis them. It makes it easier when picking, but harder to deal with when cutting them back. Each cane must be "un-trellised" as well as pruned. I save some of the new growth "prunings" for the bunny...she loves them! Any extras, are set in the woods for the Whitetail, who gobble them up in a forenight. When the job of cutting the canes is complete, the trellising of the new canes begins...I saved that job for another sunny day...it can wait.