It was snowing lightly when I stepped out the door - and the woods greeted me - taking me me to a world where things move at a different pace. I need this kind of walk today...however short, just some time to get away from the clock, the pressures of the other world. I kept my head down, eyes squinting and looking down to my feet, avoiding the flakes that were blowing in my face. Gloved hands tucked deep into my pockets, I walked with a quick pace, a walk with a purpose. Go get the mail and get back to work....
They noticed me first. I wasn't paying attention to what was in front of me. One of them stomped her foot and snorted ...warning me that I was getting to close. It startled me.
I stopped walking and looked at them. They looked at me. I was closer than I have ever been to one, about 3 feet away. The whitetail are beautiful. So I just stood there - admiring them. The biggest one made a sort of bleating noise I had never heard before. Almost like a sheep, but very brief, grunt like.
The whitetail have taken to walking in the road. These last two storms make walking the paths difficult. The snow and ice are hard to traverse. Walking the road is easier for them. They tolerate my presence. Not wanting to navigate the berm of the road where the snowplow has heaved up icy mounds, they allow me to walk along with them. We walk in single file, I fall in step.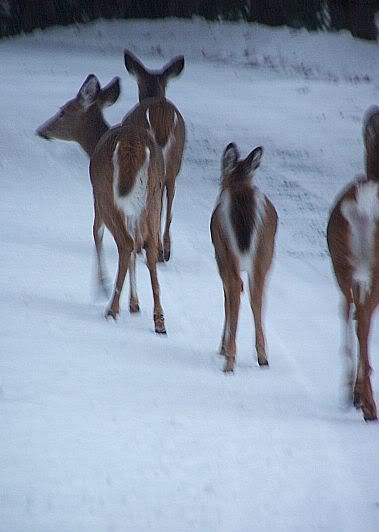 There were four of them, the fifth decided to run up the berm and follow along on the deer path that runs parallel to the road...it lagged behind, and then would run to catch up to us.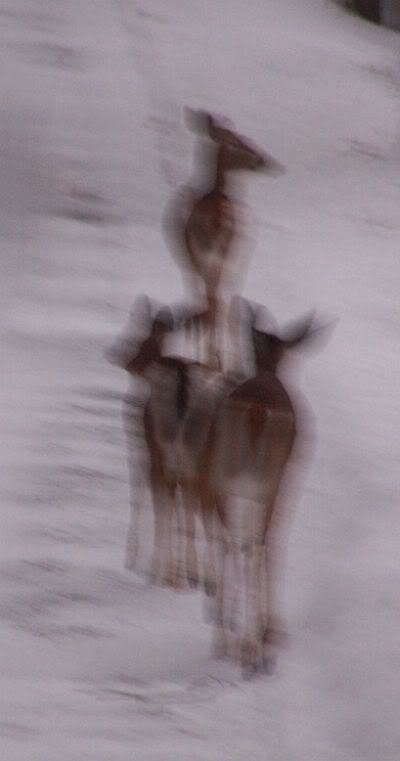 I followed them until I had to take a different path, back to my world with a clock and things to do. But my spirit thanks them for the interlude.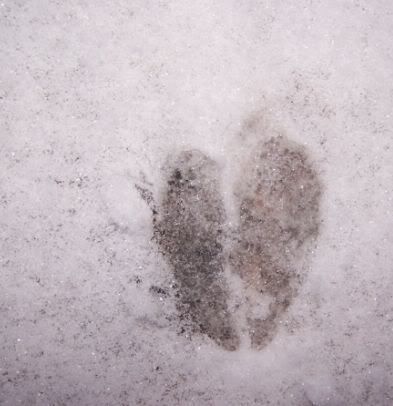 How can I not love a creature that leaves a footprint in the shape of a heart?