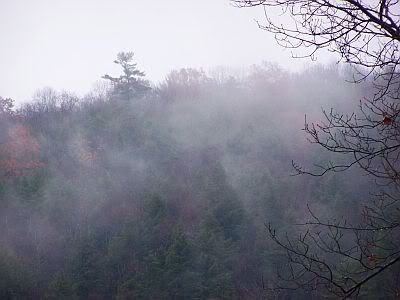 opening day of deer season, and there is a sense of fear around the riverrim.
the woods don't usually make me fearful, I love the woods. How can you be fearful of something you love? I guess I'm fearful for what is happening in the woods... today, there is danger involved.
I heard a few cars go up the mountain early this morning. The hunters around here are good people, good neighbors. They are careful, respectful people. I worry for them in the fog, and the rain. Will they be able to see what they are shooting? I am as worried for the hunters, as I am for the hunted.
Fear makes a heart pound. I know the deer are fearful today. They sense the impending perile, the hunters in their woods. The air is as thick with anxiety as it is with the fog. I can imagine the heartbeats and and hear the hoofbeats as they run past. Adrenaline flows. There is stress.
All day, I wonder about my friends in the woods. I hear no shots. Good. Just before dark, I see a sign. I am glad, he's still here, a bit far away, but he made it and I can now try to relax and not be so fearful.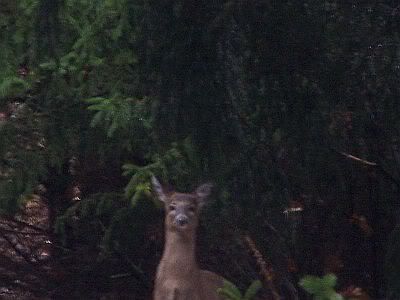 spike buck