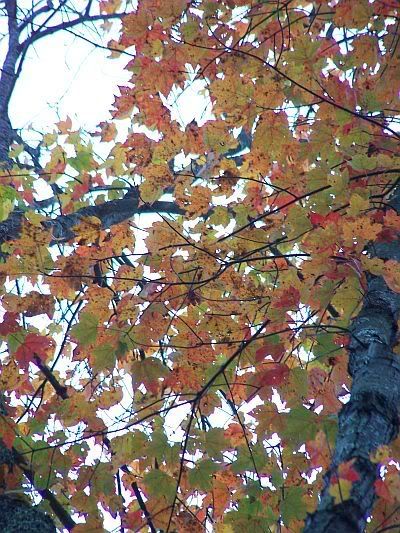 A wonderfully nice thing happened to me yesterday. I didn't have my camera to record it. The camera was left on the shelf. Sometimes I do that, to make myself pay attention to other things like sounds and smells. I have a hard time leaving the camera behind. I always worry that the perfect situation will present itself, and I will not have the camera to record it. It did, and I did not.
There was big flock of chickadees in the wood. About 30 of them by my count. There were also about 4 titmice in the mix. They noticed me, and were making that familiar chickadee buzzing call. They gathered all around me so I stood very still. It was amazing. Mesmerizing. I could hear the fluttering of their wings as they approached even closer, looking at me, surrounding me. I stretched out my arm and opened my hand. Three of them came within grasp, looking to see if I was offering something. If only I had offered some seed, I do think they would have perched on my fingertips. After a time, I began to walk again, and their buzzing quickly changed to a chipping. Bird talk. What were they saying about me, I wonder. Do they think I am nice? Does it matter? Apparently so.
Earlier in the week I was named as a recipient of the Nice Matters award by Cathy. I read her Catena blog on a regular basis. It is through Cathy's blog, that I have discovered so many other Nice blogs. It is fitting that she should get a Nice Blog Award. When I visit the Catena blog, her creativity, intellect, and energy inspire and motivate me. When I saw my name selected among the others, I was humbled to be in their company!
Nice does matter to some of us. It is recognized and cultivated by those that appreciate it. It can also be looked at by some, as a sign of weakness. I know. That is why you hear things like, "Nice guys finish last."
But I am happy to be named with a Nice Matters Award..and according to instruction I name seven others.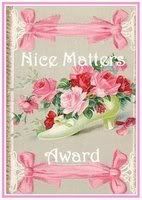 According to the originator of the Nice Matters award it is intended for "those that are just nice people, good blog friends, and those that inspire good feelings and inspiration! Those that care about others, that are there to lend support, or those that are just a positive influence in our blogging world!" For those receiving the award, you may like to pass on the award to 7 whom you think deserves it.
Yarnspinners Tales - Cindy was one of my very first blogging friends. We have kept in touch even when our blogs have been on hiatus. Now is a good time to mention that Cindy is starting up a podcast for spinners! Hooray!
FiberJoy - Wanda's blog is rather new to me. I found Wanda through Smatterings and the Walk with Me Wed. Fiberjoy is a good name for Wanda's blog...she finds joy in many things, in many ways.
Smatterings - Judy, who started Walk with me Wed. ..a kindred spirit, with a special way of seeing things. She translates that to her yarn through her dyepots.
Habetrot - I've never seen a meme or award on Marcy's blog. But that is Ok...Marcy's blog is great just the way it is. She probably has had tons of nominations...her blog is very unique.
Leigh's fiberjournal- Leigh has a gift for explaining what she does and how she does it. I enjoy every word and every detail of the projects that she shares.
Knitagarden - Judith has not kept this blog for a while. In fact, if you try to link to it, you cannot access it anymore. I miss reading Judith, and I miss seeing through her lens. It is deserving of an honorable mention for a Nice Blog Award...even if it no longer exists. If you ever read it, you will know what I mean.
Clothesknit - Amanda ended her blog in August. You can still read it, but she will be missed too. Thanks Amanda, for all of your posts....it's been nice!