I missed my walk on Wednesday this week. I had to go and get tires for the car. I sat in a waiting room for 4 hours. It was a good thing that I brought some knitting to do while I was waiting.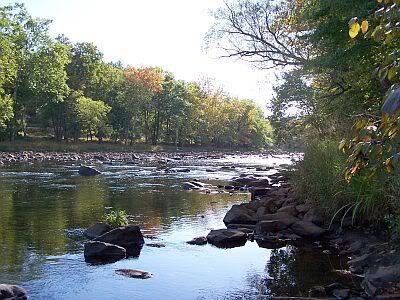 We have been without rain for a very long time. The river is low and still. At times, you cannot even hear the water flowing by. The color just starts to show, a little bit more every day. I am tempted to play the grasshopper, and wile away the hours...but I know full well that I need to get the corn cut so I can plant my winter rye.
And so the afternoon was spent bending over and cutting the sheaves. They were laid into bundles of 50 and carried out of the garden. Eight time over. Now this may seem like a lot of corn, but almost half of the ears did not develop fully, and that is due to poor pollination. All is not lost, the chickens will get the dried cobs to munch on when the snow flies this winter, and when they have picked the cobs clean, I will save them to make bobbins for the Great Wheel. This is something I have read about, but have yet to try.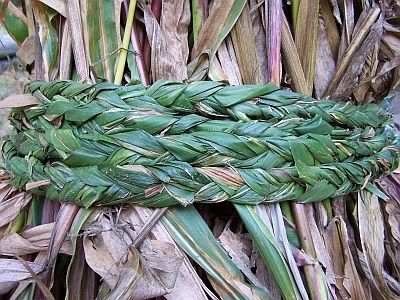 Once I had the all the sheaves together, I built a shock. I made 3 bundles first, and lashed them together tepee style (so the wind or perhaps a hungry whitetail won't knock it over.) Then I laid the rest of the sheaves all around and in between the original 3 bundles. When I was finished, I braided leaves from the stalks, to make a tie to bind the center of the shock. It was my favorite part.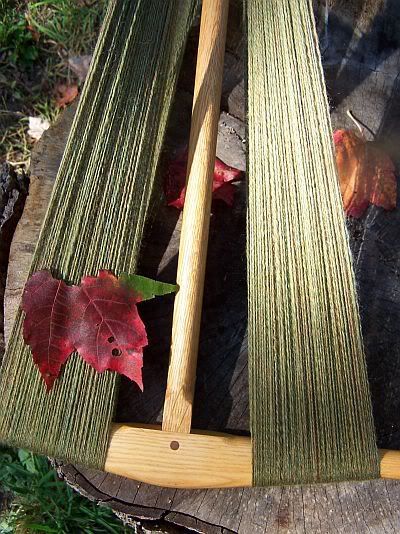 Before I forget, I have finished spinning the Merino that I purchased from Misty Mountain Fiber Workshop. There was only 8 ounces, a quick spin on the Ashford...resulting in a double ply of about 14wpi...no plans for it yet. BTW, has anyone seen my Cushings Acid Dyes? I have over 25$ worth of them that I seem to have misplaced... grrrrrr....