Yesterday afternoon we drove up to Albany and went to the Irish 2000 at the Altamont Fairgrounds. We saw one of our favorite bands, and enjoyed a new one we had not yet heard. They play in the traditional genre and do it extremely well. They go by the name of
teada
.
The weather turned cooler in the evening and I found myself wanting my earflap hat. My thoughts also turned to an old Aran sweater that we found the other day whilst cleaning out some old steamer trunks.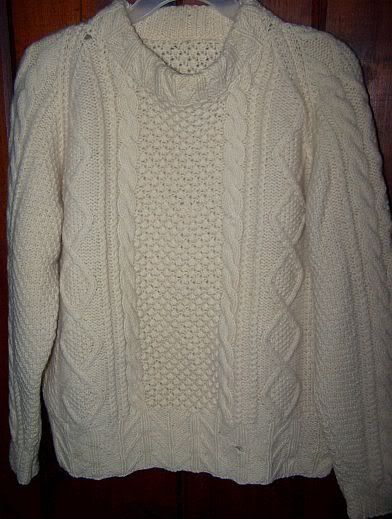 This particular sweater was knit for my husband by his mother. She made it for him when he was in high school, so it's a little bit old. His mother passed away suddenly, not long after we were married, and I often wonder what kind of things she could have taught me about knitting. She was very good at it.
Anyway, the sweater has been packed away, not seeing the light of day for a long time. When my husband found it, he said I could have it. He also pointed out that it had several holes. I'm not sure what caused them, maybe moths at some point in it's life. After the chilly night spent at the outdoor festival, while we were driving home, I contemplated using my felting needle to repair the holes in the Aran sweater.
Today, I gave it a try. First I lightly tacked down the area to close the hole, working from the right side of the sweater.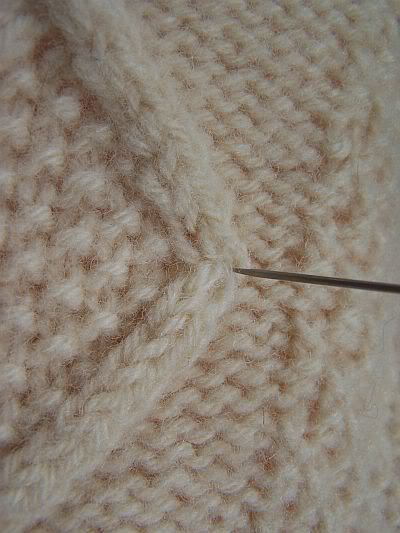 Then, I flipped it over to the wrong side and reinforced it with some loose wool...luckily I had something in my stash that matched it fairly well.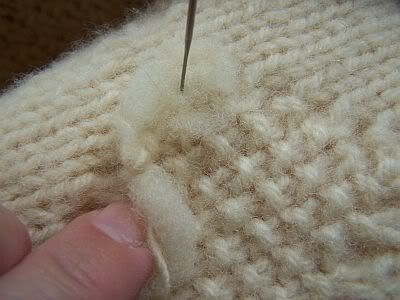 After I had "bonded" the wool sufficiently, I flipped it over again to the right side and went back into it "sculpting" and "stitching" the outline of the knit stitches.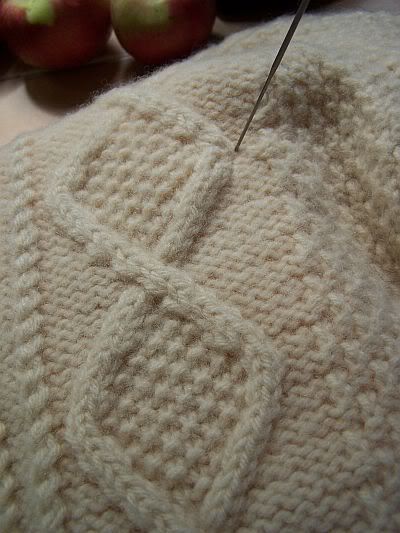 I did this method in all of the area's that had holes, including the twisted stitches of a cable. It worked out OK, I think. After I wear it a few times, I'll know for sure if it is a "proven" method of repair.
I feel good about restoring the sweater. I keep thinking about how much time his mother must have spent working on it...I wonder where she brought the wool (it is really nice wool). I think of the love locked into those stitches. Yep, I am glad I repaired it. I think the sweater is happy too.....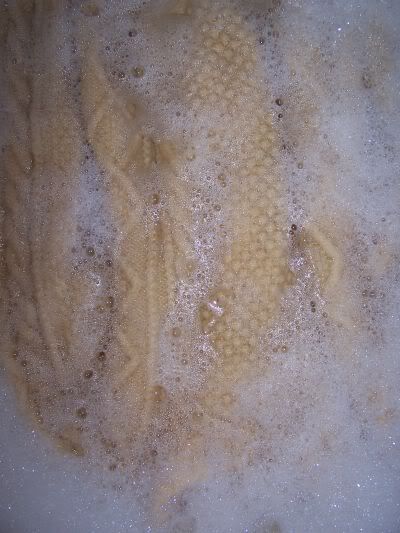 here it is relaxing in the bubble bath...it's first bath in, ahem, years. I think I heard it mummer "ahhhh" as I eased it into the warm water....