August finds me spending a great deal of time in the kitchen with string beans. The yields this summer are amazing. We planted gourmet nickel (green) and french wax, both of the bush variety. Alas, no bean stalks for me this season.
After spending so much time handling the beans, picking- washing- chopping-packing, I was beginning to see beans in my sleep. It came as no surprise to me that I found myself making a bean bag.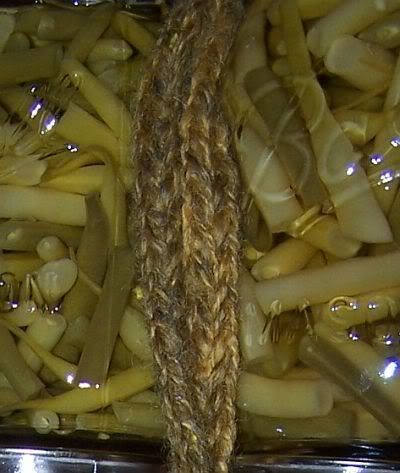 It started out as doodles on my tablet, created in spare moments whilst waiting for the pressure canner to reach temperature, and then waiting for it to cool down. Beans are a vegetable that need to be pressure canned, and that chore is time consuming. I found something to do while I was waiting....Soon I was weaving, needlefelting and fingerweaving the bag in the kitchen, surrounded by beans. Somewhere along the way, I discovered that I had a piece of yellow heart wood-that matched the wool perfectly, it will become a button. I smile.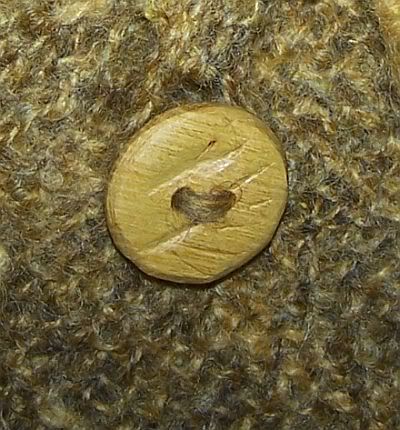 36 pints later, the bag is finished...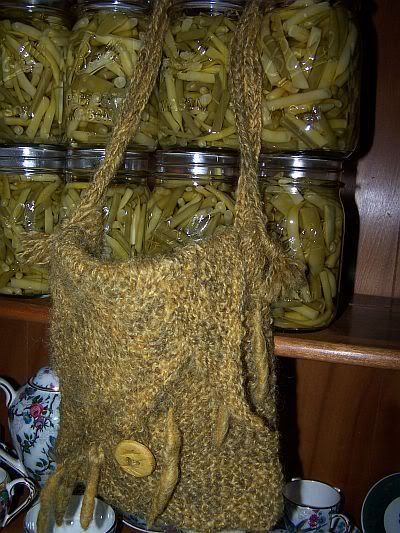 project notes:
Wool- processed by the drafting zone. Purchased at Misty Mountain in Gettysburg.
Spun- singles (20wpi) on the Great Wheel, ply on the Ashford Traditional wpi (12)
Woven- 4 times basic tabby on 32inch triloom, matress stitched, fulled, finished 8x9.
Details- Fingerloop straps, needlefelted beans, hand fashioned yellow heartwood button.