I had to go out of town for a few days. Any gardener knows that even a few days away from the garden in the middle of July can spell M-O-R-E weeding.
So, upon my homecoming, and the many weeds that were waiting, an article from slashdot caught my eye. It was about a Hortibot.
The article explained that a Hortibot could "manually pick weeds, spray, or remove them using flames or a laser". Hummmm. The Hortibot could be trouble. I have a hard time letting my husband weed, let alone a robot. After all, the definition of a weed is:
A plant considered undesirable, unattractive, or troublesome, especially one growing where it is not wanted, as in a garden.
How does the Hortibot distinguish between a weed and a desirable plant?
Which brings me to this: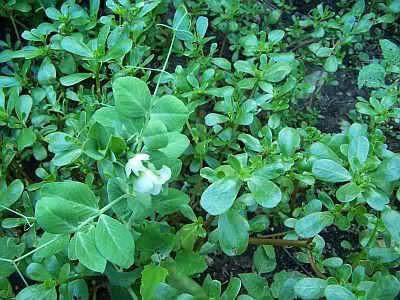 Purslane. I have lots and lots of purslane growing. Some would call it a weed. Some would call it food. And very good food, or food that is very good for you. Purslane contains ALA (alpha-linolenic acid) ...that is one of the Omega 3's! It is also very high in vitamin C. But, I have not ever eaten it ...yet.
There are recipes for Purslane. I was recently invited to be a part of a recipe exchange, (as my contacts have discovered!) I don't think a recipe for Purslane Gazpacho would have been a hit.
Today, I tried some Purslane. It wasn't too bad! Sort of salty and sour, like the little yellow clover I used to chew on when I was a child. Maybe I will be brave and make the Purslane Cucumber Salad. Heaven only knows, I will have tons of purslane in the weed basket tomorrow!