Once a week I usually try to go to the library and meet with a few other spinners, to spend a couple of hours together, spinning, or knitting and talking. We exchange lots of ideas, opinions, recipes, plants, laughter and sometimes tears. We are a small group, and not all of us can meet together all the time. We have been getting together for a few years now. It is a couple of hours each week that I cherish.
Once in a while, we plan a little something extra. And so it was that a dye day was planned at Grace Hatton's Farm. You may remember that not long ago, I was making reference to an article that Grace had written for Shepherds Magazine. This same article has been reprinted in this months issue of Fiber Femmes. If you get a chance, give it a read. It makes you think. I always enjoy going over to see Grace. She is a lovely hostess and a great cook, has beautiful gardens, gorgeous sheep and lambs....and SPINNING WHEELS in all stages of repair!
I got to spin on this beauty which was for sale, but I heard it has already sold.
And I spun on this beautiful PA wheel too. It is believed to have come from Berks County PA...and has the very wide rim typical of the area.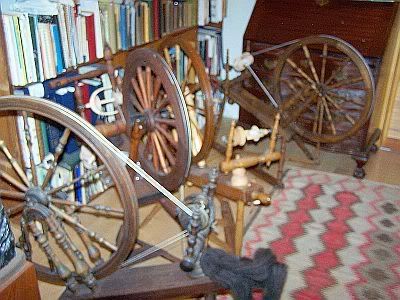 And I spun on one of these. I could have spent the entire afternoon trying one wheel after the other! You cannot help but wonder about their past, and feel grateful to have spent a bit of time behind them. I wonder, how many women or men spent hours treadling on them? Fred Hatton has skillfully restored them to working condition so they can continue to do what they were made for. I always wish the wheels could talk!
While we were spinning and enjoying homemade rhubarb crunch (most yummy!)...our dye bath was cooking away in the oven. It was a great afternoon, that flew by all to fast. On the way home, I had a few moments to admire the new lambs.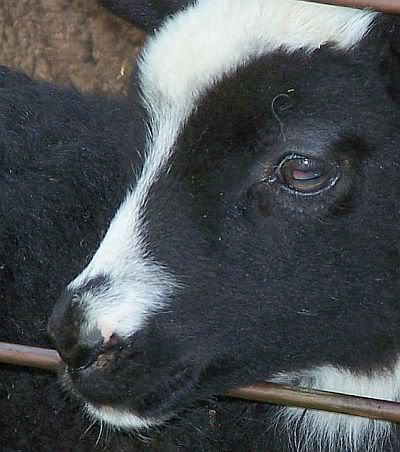 I was so excited to see that I had captured a glory over one of the lambs!
Those are some special sheep!