The first week in May is usually full of new arrivals, a steady stream of summertime residents. Their color and song enrich the riverrim.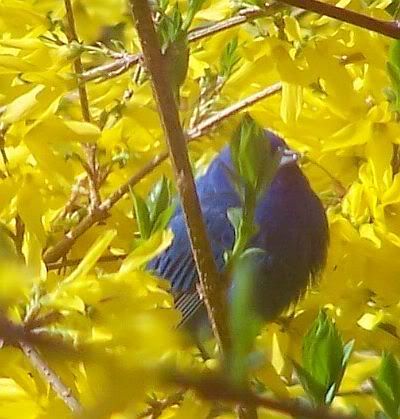 It was a productive week, full of outside chores. Shall I name a few? Tilled the garden, transplanted the lettuce, planted peas and beets, glads and dahlias and lilies from a friend (thanks Audrey!). Picked the chives and served with boiled potatoes alongside the roasted chicken. Picked the rhubard and served as pie for desert!
I keep the camera nearby to record the arrivals that I can see. Frequently, one hears the song before one can get a glimpse of the bird. They are all very busy, finding bugs to eat, nectar to drink, and places to set up housekeeping.
And I even found a little bit of time to take care of some fibery chores. I set the drum carder up on the deck. I like working outside...the vm just blows away on the breeze, and the light is fabulous. I filled another bowl with rovings of Black Finn for the Great Wheel.