I am hopelessly enamoured with my Great Wheel. My librarian was able to locate Katy Turner's book about the Great Wheel, and I have been devouring it! I made a few adjustments to the position of my wheel and the position of the spindle, and it has made such a big difference! Suddenly, my motions are more fluid, continuous and almost sweeping (as they should be!)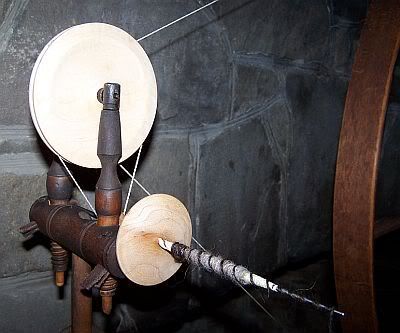 There is a very good chapter in the book, that deals with building the yarn packages. Apparently, yarn wound in elliptical shapes were the ones that used the quill. I almost always wrap the spindle with a corn husk quill before I start to spin.
This makes it easy to remove the finished cop, and saves the additional step of having to skein off before a ply.
I have almost finished spinning the blend of Black Finn and Angora. I am just short of the 625 yards needed for the Jawbreaker Cardigan (Interweave Knits Winter 2006)...but that didn't stop me from starting the project!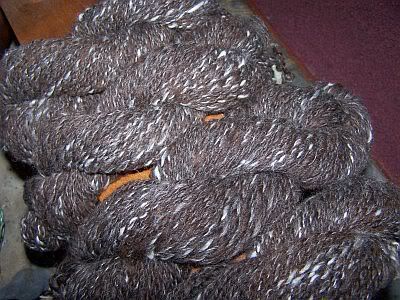 Vanessa tagged me with the 7 Random Things meme....
1. I know the exact measurement of my fingers and feet...and the distance from my elbow to the tip of my middle finger (which happens to be a perfect 17 inches). This way, I always have a method of measuring if I find I don't have a ruler handy...one never knows when one may have to measure yarn...
2. When I find a hide-e-hole in a tree, I am tempted to look inside to see if anyone left a treasure in there... I am also tempted to leave treasures in said hole.
3. I am way overdue for a haircut.
4. I would rather wear sneakers than any other shoe.
5. I received my first mosquito bite of the season yesterday whilst eradicating the burdock from the hillside.
6. When I go on a walk I like to find a view where I cannot see any telephone wires or houses, etc. and pretend for a moment that I am living in a different time...
7. I keep two different barometers which I check daily, and I think both of them are broken.

I tag these seven: catena treheima edgeeffect artis-anne littlefish fiberjoy raisingfrolic