Last summer while reading my Spin Off magazine, I had noticed the article about the Gunnister Man's pouch, and made a mental note to go back to it someday after I had taught myself to do some stranded colorwork.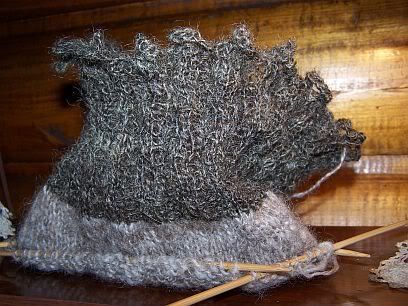 Several weeks ago, I started knitting it and as I worked on it, I could not help but wonder about who designed and knit the bag originally. Did the man knit it for himself? Did he have a woman who knit for him? Did he find or buy the bag?
I started to read as much as I could find out about the clothing and other articles from the late 17th century grave at Gunnister.Pretty soon, there was more reading being done than knitting, but the information gathered in the process enriched the knitting experience. I have listed below, just a few points that I found to be of interest.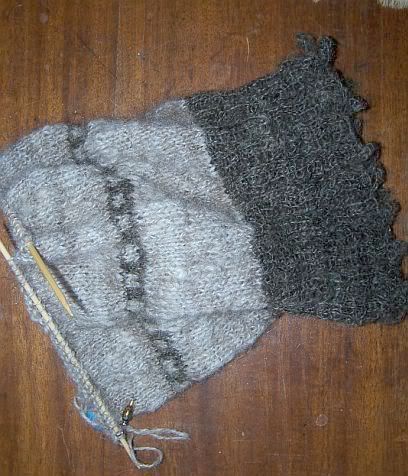 The Gunnister man's pouch is thought to be the earliest existing example of stranded two color knitting in Shetland.
The purse was found at the man's left side in his breeches, and contained 3 coins and a folded length of silk ribbon that measured one and one half inches wide and 24 inches long. I really wonder why he carried the ribbon. Was it to measure things?
Reading about the coins really took me off on some tangents. Two of them were silver from the Netherlands (dated 1690 and 1681). The other was copper from Sweden, dated 1683. There was a deposit on the coins that was examined under a microscope and "revealed that the brownish fibers which constituted the material of the purse penetrated the deposit completely and were not merely adhering to its surface. Hence the deposit was formed while the coins were in contact with the interior of the purse"-A.A. Woodham B.Sc, PHD., F.S.A.SCOT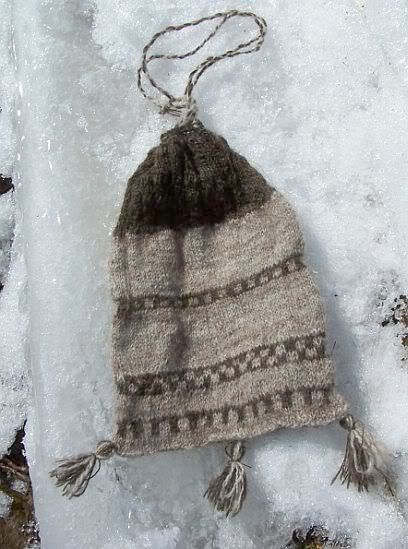 A chemical analysis of the deposit on the coins indicated that the copper for the one coin had been deposited on the silver coins by electrolytic action. This was suggested to have occurred by the acid medium of the peat bogs. OK , so now I want to go and read about the peat bogs...which by the way, need to be preserved. Funny, isn't it ...peat bogs which preserve things, need to be preserved.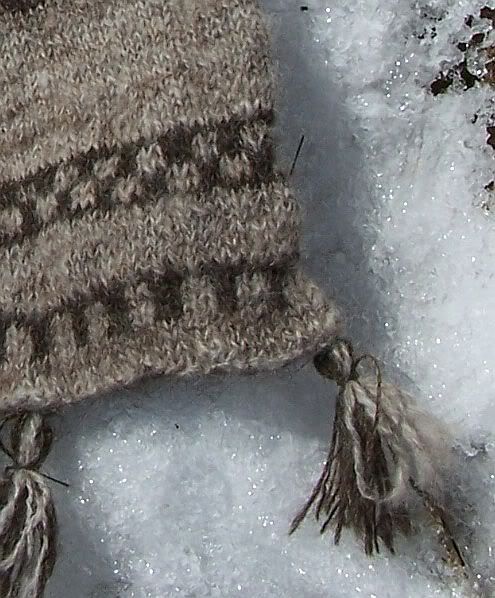 So, what happened to this Gunnister Man anyway? How did he meet his end, that his remains should be found so many years later, and spinners and knitters and fibery enthusiasts, look at his garments and attempt to learn from them? Well, one theory is that he perished whilst trying to steal a sheep...presumably on his shoulders... perhaps the added weight caused the ice to brake..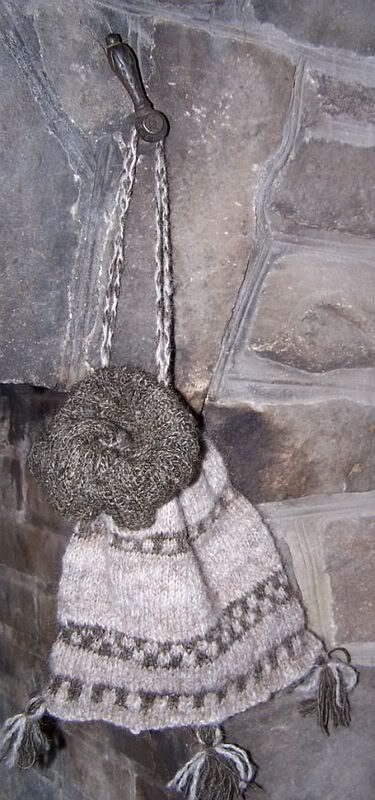 Now that the bag is finished, I want to go and find a piece of silk ribbon that measures 1 and 1/2" wide by 24" long...and carefully fold it and place it inside, just because.