"
Cross Patch, draw the latch,
Sit by the fire and spin;
Take a cup, and drink it up,
Then call the neighbors in
."
From St. Nicholas Magazine Vol. VIII No. 6 (April, 1881)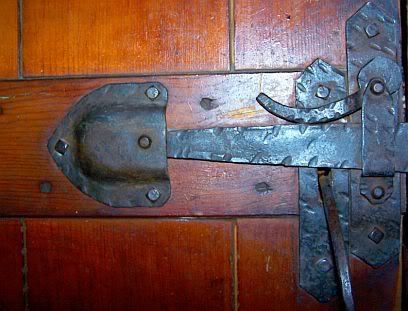 This really is the latch on my front door. And I do sit by my fire and spin...and I have been known to have a nice glass of rich merlot every now and again...but woe to the woman who wouldn't share any with her neighbors!
"Fast flew around the humming wheel; The steaming kettle hung Above the old wife's snapping fire, And merrily it sung."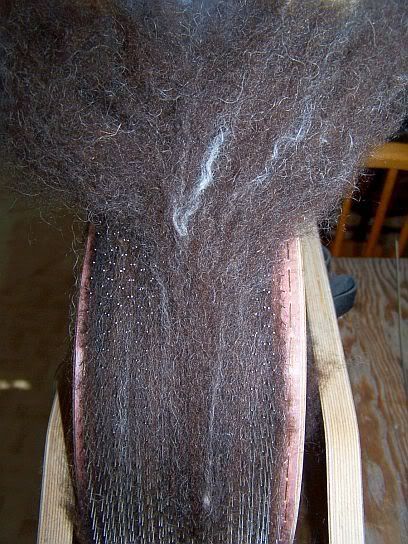 Cold weather can make for cabin fever and that can sometimes make me cross...but cold weather is also great for getting fleece washed and dried by the stove. I moved the rabbits grooming table inside and put the drum carder on it..I went through the first batch of finn that I had washed up rather quickly...
"The frost, the diamond window-panes Had trimmed with frozen leaves; The shining icicles hung low Beneath the cottage eaves."
The Finn wool blended nicely with the angora that I had harvested from Jack recently. I still have more to go! The blend is about 25/75...I am having better results when I card a layer of finn, then a layer of angora followed by another layer of finn. On the second pass, I split this down the middle and put the outside edges together.It is also better to distribute the angora on top of the drum...this way, it keeps it from clumping (for lack of a better word).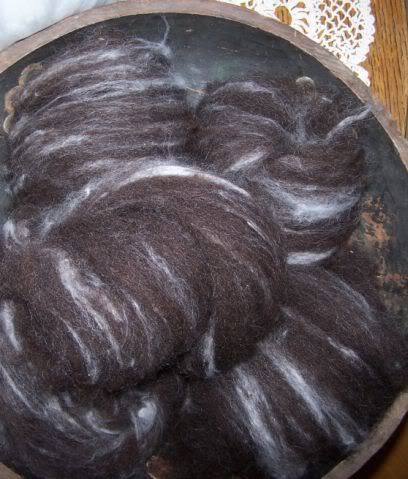 "The north wind howled around the house, The kettle sang so gay; The old wife, at her humming wheel, Spun out the close of day."

To read all of "Cross Patch" go here....