I have been plying, winding off and setting the twist on skeins of the Border Leicester P-29. At one point, I decided to use the Jumbo Flyer attachment to ply with. I think this changed the drive ratio, and subsequently the take up was different and inconsistent with the other bobbins that I plied with the regular flyer. The jumbo bobbin easily held the 315 yards...but the finished yarn is different from the other skeins I have completed so far. Not to worry, I will keep this for myself to make the shawl, and package the remaining skeins for sale.
I plied using a sort hand over hand technique...counting the number of treadles between moving my hands together and then apart.
Plying can become mesmerizing as I watch the little bumps flow past my fingers and into the bobbin.
The weather has been recorded as the second warmest January for us. Most of the snow has melted off the mountain and the ground is showing itself once again.
The stream is rushing on its way to the river and the ground is soggy in spots....but the advantage to having raised beds that terrace down the hillside is that they drain off pretty quickly. It helps that the garden is situated on a southerly slope! I wandered over to the carrot bed and pulled a few for the rabbits. Soil temperatures and drainage really influence the carotene pigment of the carrots....I think the optimum is between 60-68 degrees...these do not look half bad all things considered.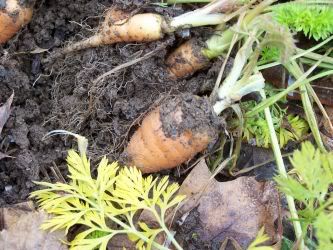 I managed to do some clean up in the broccoli and kale beds. It was nice working out there! The river is up and the sound of the water over the rocks is so peaceful and constant.
However, there was a steady damp breeze that finally got the best of me and sent me back indoors. I planted the corn bed with some winter rye...I know I am taking a chance, but it's an experiment.