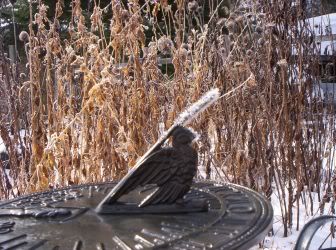 Things are really busy around the rim...the last two storms have kept us very active...just tending to chores takes more time out of the day when the elements are working against us. Walking around has become a bit of a challenge...opening gates and keeping paths clear requires constant attention- due to frost heaves that have formed during the recent cold snap.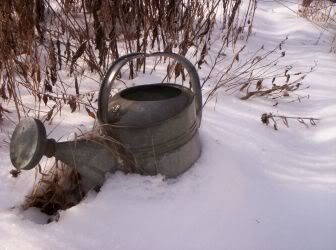 I am busy working on last minute details for the Christmas season...and I don't want to show to many photos in the risk it may give something away...but here are a few sights from my world these days.
The mornings are pretty frosty, and the riverrim is beautiful. It is something that few people see early in the morning. The warm waters of the river float up and hit the cold air, causing instant condensation, and therefore the vapors crystallize and fall along the edges of the riverbank. Sometimes, it looks to me like I am inside a snow globe as the crystals fall slowly and float around on the vapor. It is difficult to capture with a camera..you must be standing in the correct position for the light to find and reflect the beauty. By the time the sun comes up the beauty is already melting away. This phenomena only occurs when the air is colder than the water.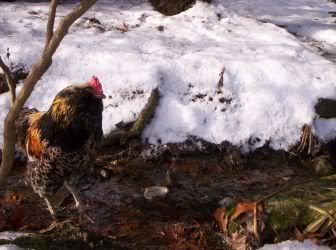 My roosters decided to brave the weather, and came out for a walk today.
Both of them have full beards and long saddles at this time of year. The Aracuna is a breed that has what is called a pea comb...Pea Combs are a good thing in very cold weather. They are not as susceptible to frost bite as a regular comb.
I made my jelly this week. I used Elderberry Juice (from my good neighbor!) that was frozen from this past summer. This is the first time that I ever froze the juice and made jelly in the winter instead of August. I have to say that I enjoyed it. It was pleasant to stand near the warm stove, and smell the fruit. Usually, when I am making jelly in the summer...I am sweating over the stove and complaining about how hot the stove makes the house. Also, the jelly was very clear, as any sediment was settled at the bottom of the container of juice.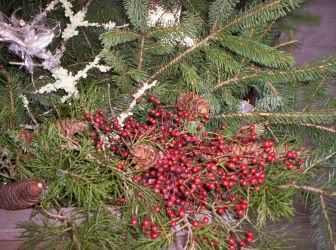 Well, back to work...'tis the season you know...