I've finished spinning the mohair and wool blend roving...shown here with my new nostepinne that Fred Hatton made.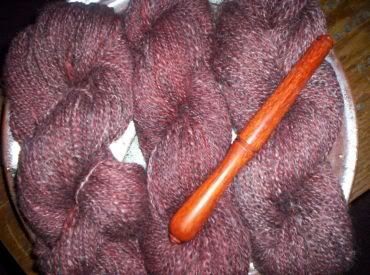 The nostepinne tool is Scandinavian in origin...and I believe if you translate the word it means "nest stick". I have been learning how to use it..but most of my center balls come out looking rather oval in shape..so I guess I need some practice. The Nostepinne was made by Fred in his workshop. The wood is Padauk. There are three species of this tree, all are in the legume family and have the Latin names of Pterocarpus soyauxii, Pterocarpus macrocarpus, and Pterocarpus dalbergioides. Mine is a beautiful color of red now, but will most likely darken with age.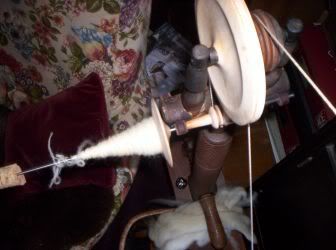 Speaking of "practice"...I have been trying to get a block of time each day set aside for me to practice spinning on my Great Wheel. Fred just made me a new spindle, and it works wonderfully. I decided to try the tip that Sharon Peffer told me about this past summer. I am referring to the use of corn husks wrapped around the spindle shaft. I found that this is helpful to the structure of the cop. Without it, my cops lose their shape and don't hold together very well, once I have taken them off the spindle. With the corn husk, they seem to be sturdy enough to ply. I tried putting them on my lazy kate, but it did not work very well, they were a little bit to long for that. So I just put them in a bowl, and plied from there.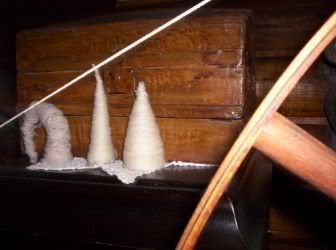 This picture of my finished cops reminds me of Pyrometric Cones reaching temperature in the kiln...but it gives you an idea of how the corn husk gives the cop stability.