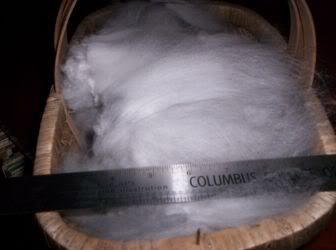 I have been trying to hold off on clipping Jack, but I decided that it was time. I noticed that he was starting to drop coat, and I really did not want to loose much of it. Overall, I was very happy with his wool. It was not as long as it was last time, but still is a nice staple length of approx. 4 inches. I plan to keep better records of exactly the yield this time. I want to keep track of how much wool this guy is producing.
When I clipped Jack in April, the wool had a staple length of six inches. So his fur grew 4 inches in as many months! I really felt bad about leaving him in full coat throughout this summer heat. He never showed any signs of stress, I guess I felt guilty that he was so hot just because I wanted his wool! Now that he is clipped, he is feeling frisky, and running around the hutch kicking up his feet and wagging his head and shaking his body. Here he is hiding from me when I wanted to take a picture.
I lured him out into the open with his favorite treat...blackberry leaves.
These black berry leaves are from a thornless black raspberry bush that goes by the name of Navaho. I have had the three bushes for about 5 years now, and have always enjoyed beautiful and bountiful fruit. This year, I am worried about the bushes. They seem to have something very wrong.
See how the berries look underdeveloped? Some of them have even turned brown and dried up completely. It almost looks like what happens to my heirloom grapevines. I am afraid it is orange rust, but have been having trouble diagnosing the problem for sure. Maybe I am in denial.

I have trellised these and really enjoy them in my garden. The advice on what to do about orange rust is destroy the plants. I really don't want to do that. If anyone has seen this before, please email and let me know what I can do. This years harvest is a bust...no fresh berries, no jam...just lots of leaves for the bunnies.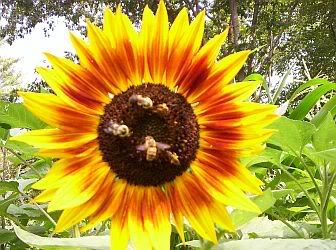 One piece of good news in the garden is the honey bees I have been seeing. Ever since the
trachea mites hit a few years ago
, we have not been seeing as many honey bees in the garden...lately there have been several spotted visiting the sunflowers.