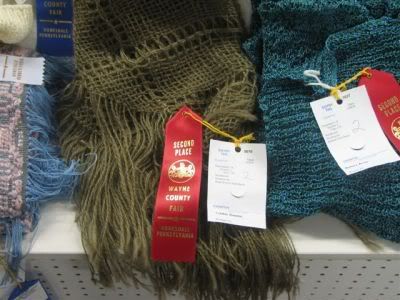 One of the last things I did before I left on vacation was to enter the Wayne County Fair. I have never entered anything in a county fair before, but this year, at the urging of my dear husband, I got up my nerve. After obtaining the Premium Book...and following the directions for entry in the proper department...I decided on entering a handspun, hand-woven shawl.
The main requirement of entry was that the article was to have been created in the past year. I chose the leno lace shawl that I made from the Wensleydale Top that I purchased last October at Rhinebeck, from Barneswallow Farm. It went by the name of "Juniper", and was a soft green gray color. I had spun a fine single, then plied it with some tussah silk from the Copper Moth....called "Moth Wing", and some seed beads thrown in randomly. Then I wove the Leno Lace pattern on my 5ft. Triangle Loom. I was satisfied with the results, but really could have taken more time on the fringe. I did not tie off the ends, and as a result, it has a sort of "frayed edge" which some people say that they like, but I prefer a more finished look.
Anyway, when I dropped the shawl off, I saw so many beautiful pieces of handwork, that I felt a bit intimidated about entering my shawl. Self doubt was nagging at me...I should have taken more time to finish those ends. I left the fair grounds feeling rather like a little fish in a big pond...and wishing I had not listened to my husband! Imagine my surprise when I learned that the shawl won a red ribbon! Second Place!

Now I am wondering why...was it the yarn? Was it the lace pattern? I wished I could have seen and heard the judges comments. Anyway, it made my day...nice to have a ribbon from a county fair, and now I will enter again. By the way, I am told first place was a crocheted piece.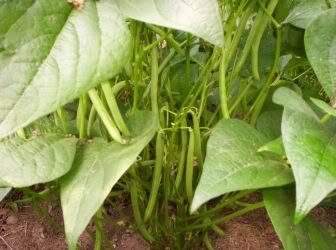 So it was really nice to get out in the garden after being away from home for the week. My garden is a constant visible reminder of the passing of time. I don't need a calendar or a clock--I simply need to go outside and look at the green beans. With the heat of the summer I swear you can watch them grow.
I had decided to get out as early in the morning as possible (just after the dew was burned off of the leaves). It was pleasant listening to the river....always a refreshing sound with all the heat we have been having. There was the occasional bird song, many bees buzzing about, cicadas calling, and crickets chirping. My rooster Buddy was happy to see me and stayed close by...hoping I would find a big grasshopper or something for him to offer to his hens. He was clucking quietly to remind me that he was there. The sun was starting to get high, and the sweat was starting to roll down my back as I bent over the beans.
In an effort to stay cool, I started thinking about the spring time, when I had planted the beans. This year, I chose a variety called "Feves Vertes Naines" or "Gourmet European" from Stokes. They are a white seed, and were billed as a perfect bean for canning- freezing or Market. I remembered that I had to wait for the roses to bloom before I planted them...we had a cold spring this year. So 50 some days later, I am reaping the harvest, and could not be happier about the yield. I will grow this variety again.
When I got back to the house, I weighed the two baskets.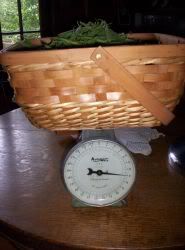 I had over 14 pounds of beans...my little pints pressure cooker would not be enough. It was time to call in the big guns. I made a phone call and bartered some fresh blue claw crabs and broccoli for use of the CA21 Presto 7qt. capacity canner, which my friend, er, enabler, promptly delivered. It is her mothers (vintage 1970 something) canner...and a beauty. Check out the pressure gauge on top...makes my job much easier.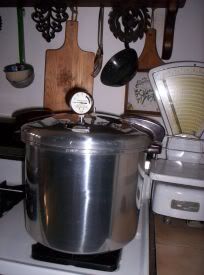 All in all it took me the course of a day to pick and jar 6 quarts of beans (and there are more waiting). Why do I do it? As I work at cleaning and slicing the beans, one can't help thinking how many people used to put up their own vegetables. In the 1880's women preserved the harvest over a woodstove (I cannot imagine cranking that baby up in this heat..let alone trying to maintain a even temperature to can veggies). During World War One... the public was encouraged to plant their victory gardens, and preserve the surplus. Likewise during the 1930's ...the depression and WW2. I guess things have slacked off with the current generation of young women who are more involved with working outside of the home than in it.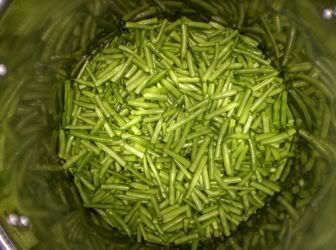 So yes, it is an investment of time. But isn't that what makes the finished product valuable? The time spent planting, and nurturing and harvesting and preserving. I find home canning to be a lot like making my own yarns. There is so much time invested, but when the job is finished, you have a very nice product.