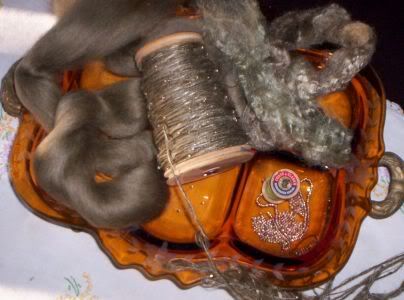 The snow is starting to melt around the riverrim, and the color of the grass underneath is quite close to the color of the yarn that I just made from the Wensleydale and Silk. The Wensleydale roving was called "Juniper". I spun a fine single, and then I used a Navajo ply method to produce a three-ply yarn. I then took the Silk, and core spun it over silk thread, and incorporated the seed beads at random. Then, I plyed the silk beaded yarn loosely around the Wensleydale. The finished product was approx. 12wraps per inch.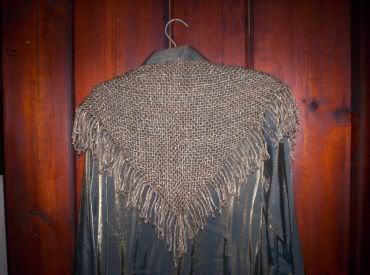 I was anxious to see how this would weave up, so I made a neck/scarf on the 3 foot triangle loom. I wanted to fringe the edges, but did not want to knot every tail of the fringe....so I used a looping technique to construct the fringe. I did not measure exactly for each loop, so the finished edge is a little bit uneven. Next time, instead of just estimating, I should make sure each fringe is the same size. I was pretty happy with the way the seed beads worked into the piece. They are speckled throughout the shawl, and look like little sparkles of dew on the grass. I also finished the "cut length" shawl edge with beads.
These were a little bit bigger than the seed beads, so I used them with the fringe. They help to give the shawl some sparkle to play off the fireflash.