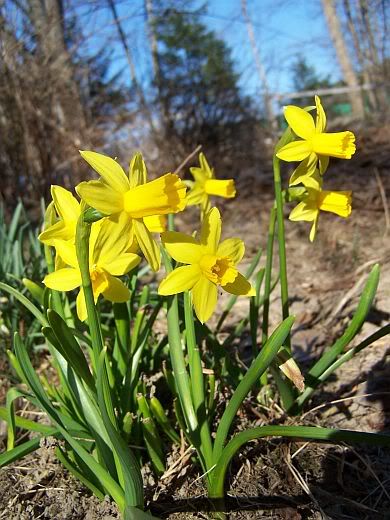 It is spring today! My tête-à-tête daffodils greet me at the gate! I neglected to dig them and move them into my window box where I can admire them easily at eye level...so I must kneel down to get a good look. I haven't noticed any bees coming to them yet.
But I have been busy with other things. In pursuit, you could say.
Wingspan is a pattern by maylin for Tri'Coterie Designs
. I've been working it up in my Shetland Samples. Most of the yarn was spun during last summer's Tour De Fleece..some of the yarn is Wheel spun and some is Spindle spun...the combination makes a nice showcase for the breed colors and textures that are available by using different fiber preparations and spinning techniques.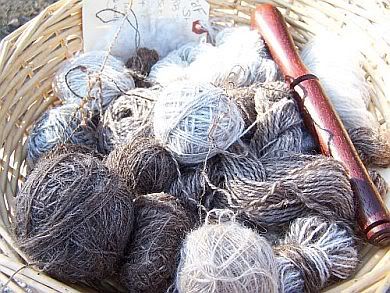 It is a very clever pattern, reminiscent of a 4 point curve of pursuit. I didn't know what a curve of pursuit was..so I looked it up.
A curve of pursuit is a curve constructed by analogy to having a point or points which represents pursuers and pursuees, and the curve of pursuit is the curve traced by the pursuers.
The triangles are created by short rows..no wrapping required...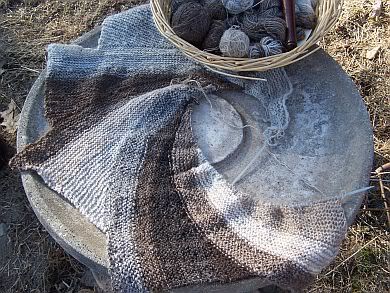 What could be easier? Just row after row of garter stitch with an occasional row that requires you to move your marker, or cast on a few more stitches. I change the color when I feel like it...moving from one shade to another..from a woolen to a worsted...at times I carry two threads at once over my size 4 needles...
...it is easy to loose yourself in a pattern like this one..the spirals take on a life of their own. ...around and around we go!