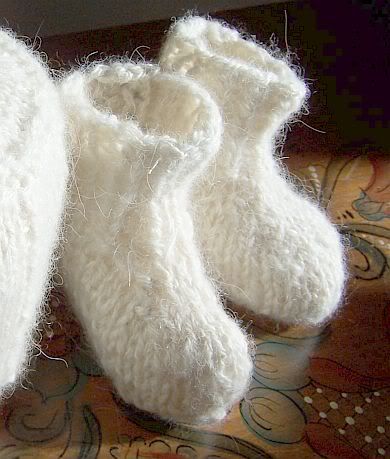 We spent our Thanksgiving holiday visiting with family...so we were on the road a good part of the time. It gave me a chance to finish up this set of booties and matching hat for the newest member of the extended family...little Elizabeth Margaret. I intended to make the Better than Booties Baby Socks by Ann Budd, but reached for my old stand-by pattern..scribbled out in my hand writing from years ago when I was knitting for my own baby. Where does the time go?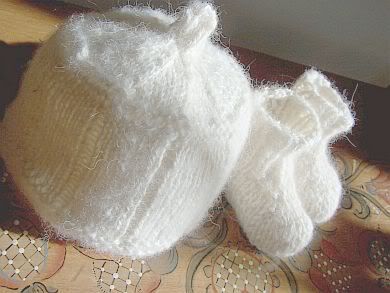 The hat worked up in a jiffy too...Quick and Easy Baby Hat by MyFairKatie on Ravelry. I like this pattern so much I might have to adjust it to an adult sized head! The hat finishes at the top of the crown, and the stitches turn into an icord that ties. Cute!
Both the hat and the booties knit up on US size 3 needles..with handspun ...not sure what it was..something soft that was leftover from some other project and just enough to finish a hat and booties with. Lots of love and good wishes for a little girl were locked into each stitch! I hope they will keep her warm and snuggly over the next few months...little ones grow so fast! I should start working on the next size up!