"Let us shut our eyes, And talk about the weather."
.... from The Pirates of Penzance by Gilbert and Sullivan
The weather. There is lots of it today. And while I am removing it from the walkways and automobiles...let's talk about it.
First up...Our resident groundhog from the great state of Pennsylvania has announced and twittered an early spring!
Thank Heavens!
This does not happen often...I believe this might only be the 16th time since they have been keeping records....
If the groundhog had looked around a little bit longer, he may have noticed one of these snow spirals from spaceweather...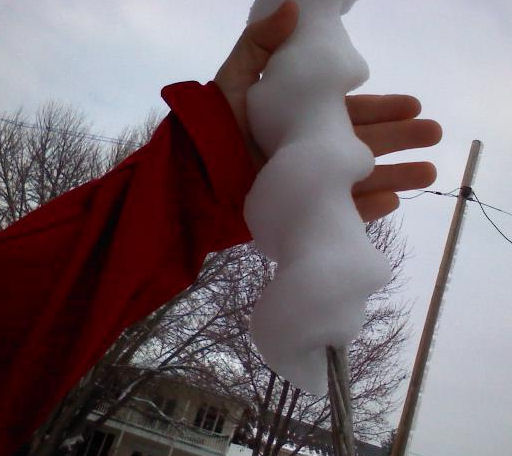 Such curious spirals! - The wires were spun clockwise, while the snow formations were spun anti-clockwise. The hardened snow spirals were rotated opposite of the metal wire's weave. How could they have been formed?
Readers with explanations are being invited to submit their ideas...
I suggest that Frau Holda was having fun. Every good spinster know who Frau Holda is...
Spinning Frau Holda is matron of all of women's domestic chores, but none so much as spinning, an activity with strong magical connotations and links to the other world: see Weaving (mythology).

Holda seems to personify the weather that transforms the land, for when it snows, it is said that Holda is shaking out her feather pillows; fog is smoke from her fire, and thunder is heard when she reels her flax. Holda traditionally appears in either of two forms: that of a snaggle-toothed, crooked-nosed old woman, or a shining youthful maiden clothed in white. As the maiden in white, her garments resemble the gleaming white of a fresh mantle of snow.
Certainly looks like her hand work to me!