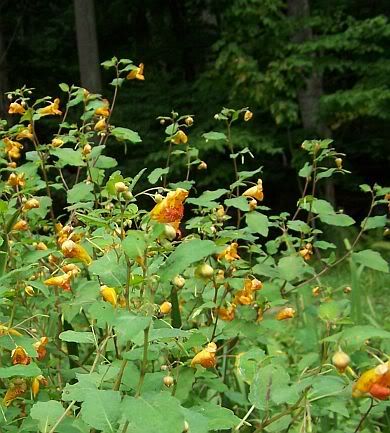 Late summer finds a bumper crop of Jewelweed growing near my garden. The flowers dangle, like delicate orange speckled jewels that glisten in the sunlight and early morning dew. Other names include (but are not limited to) Touch-Me-Not ... (Balsaminaceae)..Impatiens capensis...snap weed.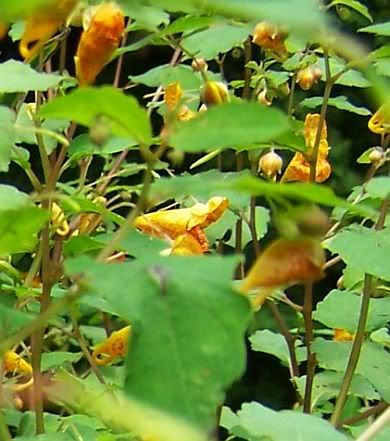 The humming birds love the nectar hidden deep inside the flower, and will use their long tongues to find it. The wasps enjoy their share of the nectar as well, but are known to bite holes in the back of the flower to get at it. This action would seem to side step pollination. Not to worry. Some of the last flower buds never open, but pollinate themselves inside the flower....known as a "hidden marriage"...the plant makes a genetic clone of the parent plant and a seed is still produced for next years plants.
A yellow dye may be made from the flowers, but I have yet to try working with them. I had hopes of trying it out this year, but I am busy with other things. Jewels and Gemstones of another sort...the Endless Mountains Fiber Festival is coming up, and I've been working on making some new thread hooks and stitch markers and buttons for my offerings this year.
Soapstone, Cats Eye, Bloodstone, Mikuki Cubes, and Pietersite...just to name a few, from the Potomac Bead Company. Wonderful quality, color and clairty, lustre and luminescence...they are a delight to work with...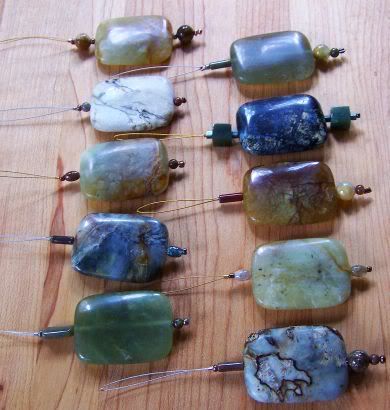 My camera attempts to capture all the details, I can hear the auto focus changing and buzzing with frustration.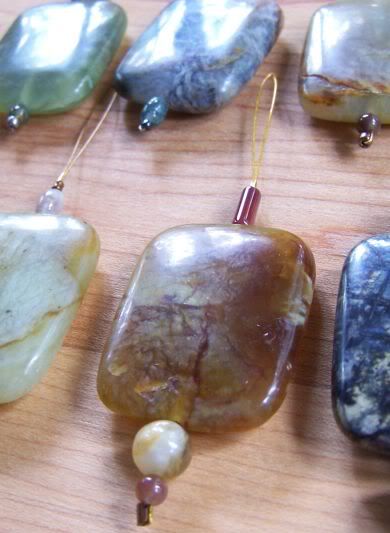 Moss Agate Rice and Jasper stones from Happy Mango Beads find their way to onto stitch markers...tools to enhance a knitting project somewhere, someday, and will assist the owner in keeping track of pattern repeats..
I enjoy making functional tools that are beautiful to look at...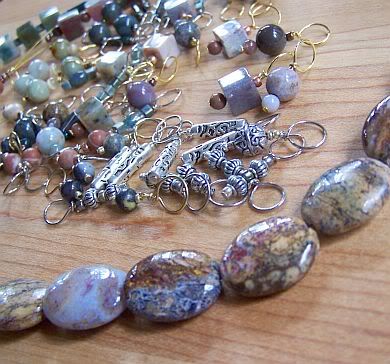 ...and I hope they continue to bring the same sort of enjoyment after they leave the booth. Hope you can stop by and say hello! I'll be in the Antique Spinning Wheels booth... number 27 & 28....